Licensed & Professional Striper Guide Service
Lake Texoma Fishing Report
---
2018


---
January 13, 2018...This is a time following New Years, that's cold, staying indoors, perfect time to get things ready for another year, relocating fish, big plans. Hungry for that time being on the water, setting out some method, to entice a fish to get on line, for a big fight, and see who's the winner. Warmer weather, spring, and before long, fish almost jumping in the boat. Then a log falls in the fire place, and one awakes to realize, the dream is over. But on Lake Texoma, I have learned in my 23 years as a guide, it is no dream, it is almost a cinch, every guided trip will result in a limit of fish, and good size fish, providing joy to everyone on the boat. The pattern each year of striped bass draws boats to various locations, for a fight of a life time. The fun of being on the lake, early morning, each guide hustling to satisfy their group, at the same time, having a ball making it all possible, and a bonus catching fish, among all the beauty. Call for your trip, I guarantee you'll have fun, and a limit of fish each trip. JD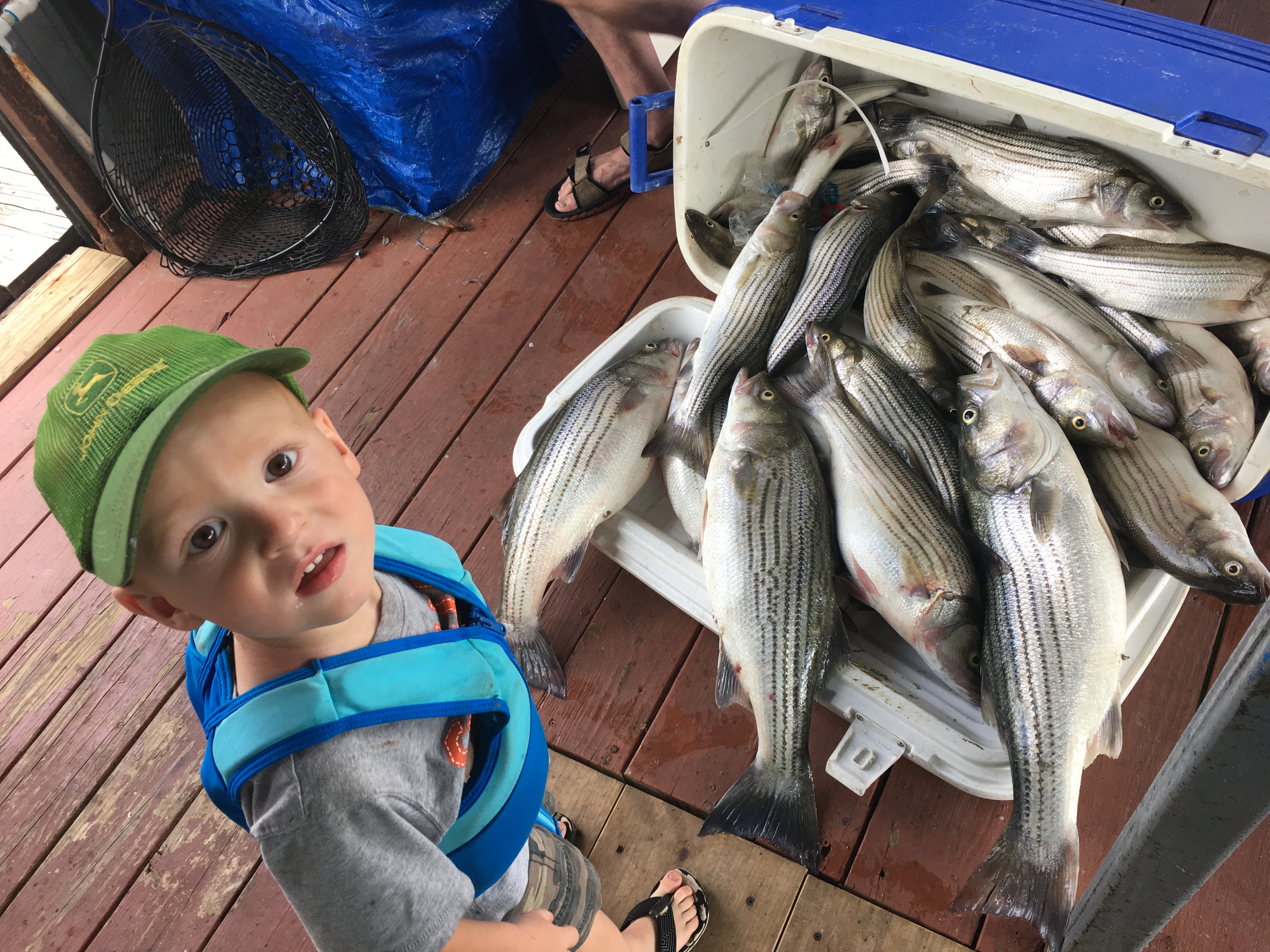 ---
December 26, 2017...Out with the old, in with the New, and I am not talking about me, since I am 76 years old, I have a new offer on my guide service, which has been active since 1994. In those 23 years, I have become one of the top guides on the lake, surmounted any other guide, winning countless striper tournaments, with the BLT, on Lake Texoma. I have donated my boat to fish numerous benefits, for Boys and Girls Club, Cavett's Kids, Operation-Welcome Home, a wounded warrior free fishing trip I organized, and lead for 8 years here on Lake Texoma, and continue to organize for our military. I hold one of the largest five fish weight total, 86 pounds, a 17.2 weight per fish total, yet to be accomplished by another guide on this lake. I retired after 30 years with the railroad, and combine my fishing, with being a Christian leader in our local Baptist church, in Pottsboro Texas. My wife who at one time guided also, is a radiologist at a local hospital, and we own property in Pottsboro, raising and breaking Paint colts, for the enjoyment of horses, and teaching our grand kids about breaking and riding horses. I am proud of all my grandkids, mostly the one who holds 7th place in the world, barrel racing, in numerous rodeos around the country. I maintain a clean and full equipped, Triton offshore 22 foot fishing boat, with a 225 Yamaha engine, and provide all the fishing gear for a fishing date. I own and manufacture most all the equipment for making fishing artificial lures, and etc. I have additional guides assisting me on big trips, so no trip is too big for me to organize, with competent guides, with a guarantee of catching fish, each and every trip. I house my boat in a nice clean boat slip, at Little Mineral Resort, which has nice cabins for all size groups, up to 40 people, with locations for fishing around the area. Although I am located on the Texas side of the lake, my trips go where ever necessary to catch fish. My groups all clean and bag your fish, and remove the red meat, fishy part of the fish, for a good meal of fish. We can also fish for catfish, a separate trip, if necessary. Our target is big fish, and your 10 fish limit of striper, with two over twenty inches. You need a lake Texoma fishing license, $12, at any Walmart or sporting store. I also have discounts for young kids, older retirees, and members of the military. I also have references if necessary. I can assure you at my age, I can out work, out fish, (better looking) than anyone else on this lake. Well in all honesty I do exaggerate a little on certain facts, but none concerning catching fish. I do have a man cave with my winning trophies, awards from different things, military recognition, a lot of lead heads and jigs, as I work all the time on producing equipment to catch fish. I can be reached at 903-786-3981, or www.striperfish.com, and reside on the lake, minutes from my boat and slip. I stay ready all the time to meet your fishing needs. "Jerry D. Dorsey"

---
December 16, 2017...Man it is unbelievable that I go so long between fishing reports but guess my being so busy on trips is the main blessing. I love fishing, fishing regular customers as well as new customers, keeping me busy and out of trouble. I always fish every weekend, and many week days, a total of 180 trips in 2017. My big fish went 24 pounds, and limit out practically every trip. Sometimes weather conditions have a lot to do with getting limits, and some just not good fishing. I have a 90 percent success with limiting out every customer, and many times, we are actually putting back lots of over 20 inch fish as it's only two Fish over 20 inches per customer, 29 total Fish per person. I won most of the Striper tournaments, although BLT did not run that many Striper Tournaments, as low turnout in 2016. I put on a fishing event on Lake Texoma called Operation-Welcome Home, a free fishing trip for our soldiers, and had 125 soldiers this year with 24 guides helping on the weekend for the soldiers. I have done this for the past eight years. This is one of the best fishing lakes around so call me for your next outing. I can handle any size trips, from 4-10 boats if necessary. I can also do Fish fry's on site, if necessary. I have one of the best slips for cleaning and convenience of area, while fish are filleted and red meated, for better taste of your filets. I can accompany date anything you need fishing wise, so call me for your next fishing trip on Lake Texoma. I also have a nice large, Triton boat which can fish up to 6 people on one trip, with plenty of space to move around. I allow snacks and drinks on the boat for your great trip on the water. I have latest in equipment and resources for finding the fish and a background of 23 years guiding in Lake Texoma. Call now for a good date for your next outing. "JD ".

---
July 12, 2017...The fishing the past few months has been just short of spectacular. Early morning finds the boat show, some 50 boats down by the dam, with a huge amount of fish, hitting top, and big fish every where. I am still fishing the umbrella rigs as well as some slabs, as artificial working best. I have been getting some fish in the double digets, with lots of box fish, to assist in our getting our limit of 10 per person, 2 over 20 inches. We have been getting our big fish limit as well as our fish per person also. I am fishing two trips a day, early trip at 6am, and evening at 2. Although evening are lot warmer, still lots of fish, and both trips about same as far as fish counts. I seem to be a tad higher than some other guides, I can only warn you those that do not charge, according to their skills, and too cheap, and you will see what I mean if you book them. I have a nice clean boat, in a slip where I clean and bag your fish, while you sit and wait in comfort. Room to move around in a covered area, while a fan keep you comfortable, while I work. You can even fish for bass, catfish, and little perch, while you wait, so bring along a favorite pole, just in case. Now lets see some pictures of recent trips.

---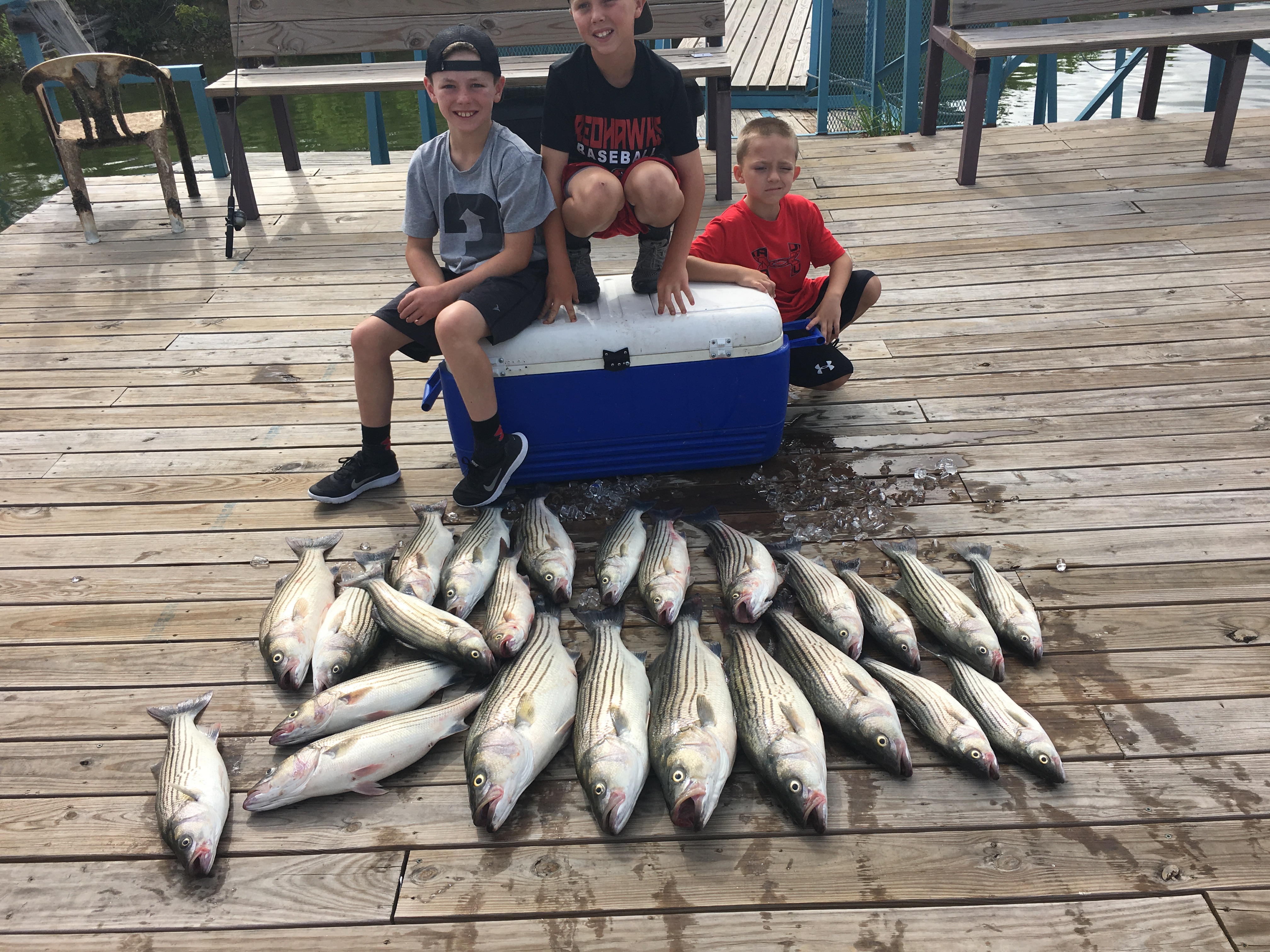 ---
May 29, 2017...It seems CrossCreek Guide Service, is slow on reports, and fast in catching, good, big, fish. I am needing to get a report0 to people, who want a seasoned guide service, who gets great results each and every trip, on Lake Texoma. The last month, I have had a trip almost every day, and caught fish limits every day, except on, and that was a slow day, and no one caught fish that day, guess it was an off day for the fish. I am running a special of $500 this season on the person who brings in big fish of the year. Today, I brought in a 14.5 pounder, and guess I lead the contest myself. It was caught on a person run, pre-fish for tomorrows trip. Caught it on live bait, in muddy water, 46 depth, on a drop off. Wind was out of the north, at about 20 mph. A fellow guide, missed two the same size, at the boat, broken line. I am leaving the dock around 6 am. With the exception of the one day, I have limited out, 10 fish per person, and all fish over 20 inches. I have caught, out of 16 trips, nah not going there, as I might miscount, and do not want to mislead anyone, as I want my potential customers to know the truth about my guide service. I have seen other guide service posts a lot of untruth things, gag tricks to get business, and I am too old to start that myself. I want people to know I tell the truth, brag a lot, but am the real deal! I have won more big fish tournaments, on this lake, than anyone, striper tournaments, and knows as one to be reckoned with in tournaments. See I told you I bragged, but that's a fact. I used whatever method I can to get big fish, once with umbrella rigs, now with bait, as rigs slowed down some lately. I have a slip I keep my boat up and out of the water on a lift, clean, and ready to hit the water on a moments notice. I have a clean cleaning area, clean, redmeat, and bag your fish, the way I like the fish to taste, so give me a try. I am a dedicated, military supporter, organizing, "Operation-Welcome Home, an event the past 8 years, to bring wounded, disabled, or non wounded soldier to Texoma for a weekend of fish, fun, and food. I am a Christian Man, with honest intentions, although I have been known to have a beer, on occasions. I am 75 years on, with the desire of a 20, no 40, year old, and get around better than a lot of youngens. I have a gift of gab, if you didn't know, and keep you entertained, while catching fish, what could be any better than that. I want your business, as I do not like seeing good honest people being taken out on a trip, with someone who could care less. I would have made a great car salesman too. Waiting to hear from you, "JD".
---
April 25, 2017...Since my better half, has untaken a new career in medicine, my reports and pictures has suffered on my website. She has graduated, and until she goes to work full time, will have some time to posts reports, and catch up things. As per earlier reports, fishing is always up and down, although it is mostly great on Lake Texoma. I still target big fish, but here recently, have (dawned a mask) gone back to live bait, as small fish only this month. This I call the season of the "dinks", March, as all big fish are up the river spawning, so we just have to live with what it is, until then. I still remain to be busy, and live with "what it is". I still do my regular business, that of getting people on fish, and have a great time, clean and bag your catch, and keep all my equipment running good, and clean for the next customer. March and April, as you know is a time for high winds, rain and storms, and we have had our share of that this last couple months. Still manage to get our fish, and have a great time!. Business is so good, I am adding other fishing guides to help me handle my work, and at my age, 75, I am slowing some. I still keep up the managing, and fishing, but just at a slower pace. I have brought a couple guys on board, who have fished all their lives, guided, honest, and do a great work, at providing a first rate guide service, with honesty, and hard work. Give CrossCreek Guide Service, your business, I am sure you will not regret it. Hope to hear from you soon.....JD.
---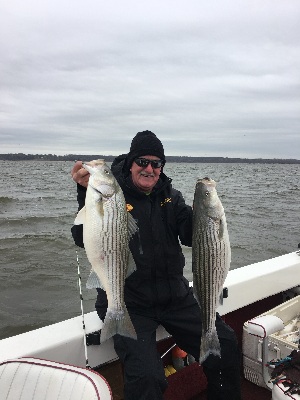 ---
February 23, 2017...If I could predict accurately my prediction would be that 2017 was going to be as good as 2014 when we were catching big fish, and limits in short time, my preference although I usually always remain out from 4-6 hours, which is plenty of time, to get the fish, and have a great time also. The last two years, although good, was hampered by the flood here in 2015. Last year was good, great at times, but not as fast and good as 2014. We have had a great spawn in 2016, and with 2017 spawn, we will see great numbers, with fish in the 12-15 range, stripers, with an abundance of sand bass, and crappie around the dock areas. My preference on fishing is the umbrella rigs, trolling, which produces the biggest fish, and limits each day. I have made a name for myself doing this, winning almost all the big fish tournaments on Lake Texoma. I have my boat in a slip in Little Mineral Resort, boathouse 14, ready to go at sunup, 7 days a week. I will have most weekends booked, but weekdays are less crowded with boats, but get in touch with me, as I love to fish, and welcome the business. I have fished this lake for over 24 years, providing great service, as well as a nice 22 foot Triton boat, which is clean and great condition. I clean and bag all fish, in my slip, while you fish for crappie, or catfish at your leisure. I can also be found on facebook, where I post most my daily catch, as it is so easy, and can do so, while still on the water. Give me a call, I have competitive rates, and do a great job making you time fishing, a lasting experience. JD

---
2016

---
October 05, 2016...I can start a book on fishing. The rise and fall, of catching fish on Lake Texoma. There is an abundance of small fish, stripers and sand bass, which run some 8-10 inches, but the later part of September, some of the fish have grown a bunch to where they are in the "real good eating", size. This requires watching for the top water action, and we use slabs, and top water. You can get a lot of fish this way. I still prefer my dragging, trolling with the umbrella rigs, and nine different colored jigs, attract the stripers, big stripers, and its my preference every day. I won the "Angler of the Year", for my consistent placing in the past tournaments, and again 1st place on October 1. It was supported by the Flip-Flop Foundation, and they along with Budlight, gave out a good payout, and prizes. I continue to be "lucky", in finding fish, and bringing in great fish for my customers, and hope it continues. I turned 75 on October 3, and fishing keeps me active, and since I love fishing, I expect, God Willing, I will be around for several years to come. Give my guide service a try, I work hard to get returning customer, as somehow, I spend money, with all the fishing stuff I need, ha, right. Give me a call or an email……You can also see my posts and pictures on Facebook. JD

---
August 12, 2016...I have been very successful on recent trips bringing in what people want on a fishing trip. First a clean, safe boat, second a good day fishing, and then to return to the docks and have fish cleaned and bagged, all before the heat burns us up. I have been pulling fish on (sandbass) slabs, or if is large fish you want, it is straight to running the rigs, which has been providing us a great fight, with fish in the range of 6-18 pounds. One fish went 18 and was set up for mounting, as it was a trophy for this young lady. We are also releasing as many as 20 big fish back, as there is a two fish, over 20 inch law, per person. The fish are returned, unharmed, to catch at a later time. In catching the smaller, sandbass, it is a good time to teach youngsters the art of slabbing, casting, and using a rod/reel. Trolling for big fish, much like the off shore method, is fun, as it keeps up moving in the hot weather, and active, at catch and release. August has slowed some with the hot weather, and school approaching, a good time for maintenance of my boat. I like the way God, has had my bookings staggered, as at 74, ole Arthur, has been hindered me some with some acts and pains. Fishing is really good therapy, try it. Good Fishing….."JD"

---
July 14, 2016...Things have turned for the better, in light of my past three fishing trips. I can catch the small "sandies", then head to the deep water for stripers ranging in the 8-10 pound range. I catch the sandies on live bait, and the Stripers on artificial methods, trolling. I try to depart the boathouse between 5:30 and 6am, to beat the heat. Fishing trips are a little "lean", on weekdays, because if the word on smaller fish only being caught now. I am pulling "doubles" on the rigs", making a lot of exciting times on the water. Time to book that trip, as I guarantee Fun for All. I can also be found on Facebook."JD"

---
May 30, 2016... I need to update my fishing reports as it has caused a reflection on my booking trips, since I have painted such a dismal picture of the fishing at Lake Texoma. We are catching a lot of fish now, but mainly smaller fish, and I have yet to capture the big fish, I so customarily catch here. We are leaving the docks around 6:30am, and most days catch fish so fast, we rarely have time for a break. As I stated they are small, but thing are getting better, as I am pulling some nice 4-6 pound stripers this weekend. I have a weekends open, which is very unusual, and they will book, as I have lots of people know of my efforts to get big fish, and lots of them. The days are beautiful, although the water is still tainted from all the recent rains. The water temperature is in the mid 70s, surface temp., and the big fish are returning from the rivers, so it is getting lots better. I am making a cd on casting an cast net, and lots of my friends and customers want one, since the majority of the guides are on live bait right now. Give me a call, I don't like having any weekends open, since I am a workaholic, and got to be busy doing something. Which reminds me in the off season, I got some yearling colts, and they are fulfilling my spare time, but I love horses, and the smell…..I know I must be crazy, but that's the love in me of animals….Anyway, call for a booking, so I keep busy, and my wife gets me out of her hair…. Fins up "JD".

---
April 17, 2016...I have seen it all, in my 22 years as a guide, but this year is the strangest. My last three trips I have not caught a striper making trips tough and disappointing. I guess after the floods of last year, we have lost the biggest population of striper, thus having to resort to catfish, and small sand bass. I do not like small in my vocabulary, so am putting out lots of jug lines, for catfish. I used to charge an extra $100 to do this, but now I have found it is much more productive, and forced to do it, including it in my regular charge for a trip. I leave the slip early, and we run the jugs (20) for catfish, re-baiting them, and off looking for stripers, or sand bass, if they are big enough to make a filet. I still troll rigs for big stripers, and it is not unusual to catch one ranging between 12-15 maybe up to 20 pounds. But unless they are hiding, up the river spawning, they are not around, at least at the time of this writing. If that sounds interesting, call now… Catfish range from a pound to up to 40-50 pounds, and most are "blues", or channel cats, and some flatheads which have to be over a certain weight to keep. It is fun, and I ask you to get in touch with me soon, as you will really like this, as it keeps us busy, and produces "meat", more likely…. JD

---
January 01, 2016...I do not look at my website very much, and it really shows. I am so far behind on Fishing Reports, I know it keeps everyone guessing. Back in 2014 I was on top of the heep, and my booking were so heavy that I did not have time to post, even with my wife handling the website, making fishing reports, and posting pictures. I have been fishing this lake for 22 years, and use every method to catch fish, but later my preference is umbrella rigs, which I started in 2014. 2014, was a fantastic year, and I targeted big fish, and also catch box fish, those under the 20 inch maximum requirement. Each person can catch 10 fish, two over 20 inches. I like to fish 3-4 people, and any more than that I use other boats. In 2015 my wife, who had been guiding with me, started college, so I lost an excellent guide, so she wants her college degree, which is really more important to her and I. 2015 was a traumatic year, with devastating flooding, and we lost a ton of fish over the spillway, and Dam. As you might recall rain fall was heavy, and we suffered through the waters going over the spillway three times. We still suffer from those floods, as we lost our large fish population, although there are still good numbers of striped bass, and other species. During the time of 2014, and into 2015, I entered the Budlight Trails Striper tournaments, (7), and finished with 5 wins and 2 seconds. I fish my customers who pay the entry fee, and for guide trip, and get the money and prizes from the winnings. It is really a fun thing. 2016 has started off tough, with all the harsh, cold weather, and I look forward to warm weather and better fishing. I still lodge at Little Mineral Resort, which has great lodging, and I am located in boat house 14, where my 22 foot off shore triton, on a lift, waits for customers, and keeps things dry. I had a knee replacement in Sept 2015, so it has aged me, slowed me some, but the fish still shiver at my presence in the area (lol). I ask you to give me a try, and I am sure you will find, I have one of the best guide services on the lake, and my talents fishing are second to none. I work hard to catch you fish, and show you a great time on the lake. I fish some 4-6 hours, or longer if the fish do not cooperate. After the trip, I filet your catch, red meat the filets, and bag them, after which we relax, talk over our trip with cool one. Call now, my trips go fast with my vast customer base, but I try to get all the work I can. It keeps me out of trouble. I fish both morning trip, 7am, and evening trips, 2:30pm, both which have about the same results, although one or the other, could be better in certain times of the year. Anyway good fishing.......JD

---
2015

---
April 8, 2015...Well time has been passing so fast, I find myself behind, any direction I travel. Going into the Budlight Trails Striper Tournament out of Highport Marina, April 4th, my regular group, reminded me they had not seen any other of the last pictures taken in February tournament. Even though we finished 2nd in February, and first in April, the turn out has been low because of it being new to the lake. We had 32 pounds for two fish, our closest competitor was some 5.5 pounds short. That group was also close friends of mine. This past month, it has been an unbelieveable spring, and spring break, the best weather and fishing I have experienced in 20 years. The fish are so large, each catch is followed by wows and my goshs, that the fishing experience is so rewarding, I remain busy on booking other trips, just from word of mouth. I hope I can put your group in that position, and I ask you to book with me and CrossCreek Guide Service, as I can assure you, you will not be disappointed. I still troll with umbrella rigs, and outshine many others, by bringing in limits, and all over 20 inch fish. My service is next to none, and sure you will agree after that next fishing trip. See you on the water.....JD

---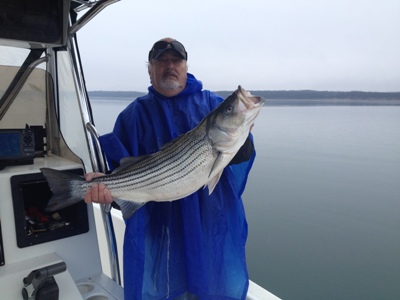 Visit Photos page to see the rest of the pictures

---
March 22, 2015...Lots to tell, so lets get right with it. As a guide on Lake Texoma, I have continued to shine, and be talked about, as one who is getting fish, when others cant, and also big fish on every trip. Whether it be the nice offshore boat, and nice equipment, or my success rate, I am not sure, but I can tell you I am fishing more than I have in my 22 year career guiding on the lake. It also could be the fact that I am due for left knee surgery in July, so guess those who want to fish with me before I am down that month, are booking me. My weekends as usual are going fast! Here, and as I stated above, are those reasons. I work hard to get my customers the most fish, and biggest fish; I have a gift of gab, keeping my customers laughing, at my stories, and at 73 years old, I have a lot; My boat is usually always clean, I have a clean, cleaning station in my slip, but the most attractive, I catch fish, better than anyone on the lake right now. I troll, yes troll, with umbrella rigs, nine jigs, selected colors, much like the off shore method of fishing. I hit the spots I have known for years, where the big fish are located, and we are moving all the time, rather than throw out a rig with bait, with one bait, and sit there for the fish to come to it. Yes I only fish two rods at a time, as when you catch sometimes, seven fish at a time, its a little to busy to handle anything else. Its fun, kicked back, and productive... Call and book that trip, and see for yourself. Now for some pictures, first my favorite when I took out my grandkids, and we pulled two 17 pound fish, back to back..... Biggest so far this month, is a fish hinging on 20 pounds..."JD"
---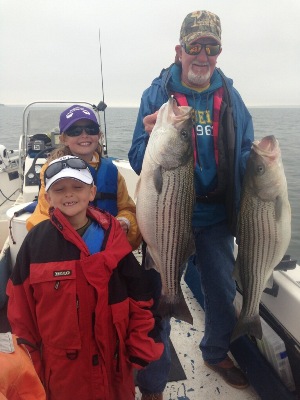 Visit Photos page to see the rest of the pictures

---
February 25, 2015...February fishing is still real good. I have been fishing almost every day, and catching fish in the range of 9-19 pounds pretty regular. I have been in some nice weather, but his last Sunday, was in a BLT striper tournament and brought in over 34 pounds of fish on two fish, struggling against extreme cold/winds. I have a regular crew for this tournament, who want to fish it, every time, as it has been so much fun. I trailered my boat over to Highport Marina, for three days, as it would have been too far to drive my boat as most of the fish are to the west of Little Mineral Marina, where I house my boat in a boat slip. this year will be fantastic, as there seems to be an assortment of fish, but most in the large fish 10-20 lb range. I am equipped for big fish, using offshore rigs and 50 pound test line...Hope to see you this season.
---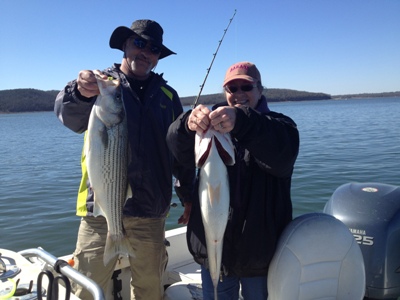 Visit Photos page to see the rest of the pictures

---
Febuary 15, 2015...Februay has been a rather great month, or at least as far as catching big fish is concerned. I have brought in fish in the range of 19 to 10 pounds, throwing back a host of fish in the 10 pound range, as there is a two big fish per person limit. In this regard, it is almost impossible to bring in a limit, which includes smaller fish, but this will change when the Spring season, and warmer weather moves in. I am having to run quite distance to find the fish, but his is simply a pattern for the cold time of the year. There are a few birds working now and then, which means fish are there, chasing shad. The water temperature is almost to 50 degrees, and when it hits a steady 60 degress and higher, fishng will be fast and furious. I recommend you getting your dates confirmed as good days, weekends will be gone before long. I have sold one of my boats, as my dear wife is enrolled in college, losting one of the best guides, to education. I work hard to try to show my customers a great time, even allowing them to fish in my slip for big cat fish, and brem, when we are not on the lake catching stripers. I will add a few pictures to my photo page, of the recent catches. Give me a call, I have been doing this for over 20 years, and know where the fish are, and how to bring them in, for your kitchen table feast.
---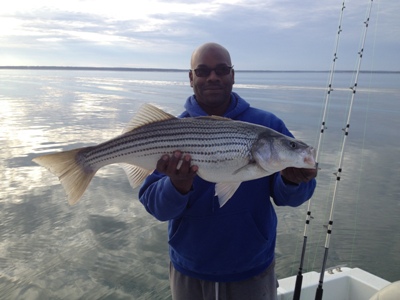 Visit Photos page to see the rest of the pictures

---
January 23, 2015...They say things get better with age. Dont get any ideas, this is a family site, and I talk fishing. You know years ago, 22-23 to be exact, I became a guide and spent most of those years, running out to get live bait, facing the perils of running into something in the dark, the worse, not getting any live bait, or just to lose it, dying for some unknown reason...Geez. Things like this do not change with age, but stick with me, its important. I will get there. Once I got the bait, and was able to keep it alive, I put out one bait with 6-8 rods and caught the crap out of fish or all different sizes. Stuck with this until last year. I know, call me a quick learner, Ha. After this length of time, and failing to tell you how many nets I lost to unknown whatever it is down there that eats nets, I suddenly changed habits. Not sure it was totally because of a torn rotator cuff, the mornings getting up at 2-3 oclock, the smell, or just stumbling onto something better and easier. If your going to spend 40 thousand on a boat, and more than that on gas and equipment, with a college education like I, look or at least act smarter. (dont forget the years I spent doing this) Last year, at the advise of someone who fished only a few times, pulled out a 9 yes 9, four arm umbrella rigs, with yes 9 jigs, you heard me right, and caught the crap out of fish, while I had tried my 5, yes 5 jig alabama rig, spending most of my time helping him get fish off his, yes 9 jig rig. Although he was a friend, no I wont say that.... I now use a umbrella rig, yep 4 arm, yep 9 jigs, yep I catch fish too. Now for the catch (drum roll please) I have prefected the method, caught more fish, bigger fish, BIGGER fish, than in my 23 years as a guide. Yes there has been a increase in the bigger fish in this lake,and everyone is catching bigger fish, but I am catching BIGGER fish than almost anyone I know on this lake. You will have to be prepared to troll, use these rigs, and also expect to have a cooler full in less time, and let other have the dinks....ok ok stop the darn drum roll please! Gosh. I will be serious for a minute although it does not fit me, as I love to cut up and have a good time, I target big, yes BIG FISH now, so get ready with the "O MY GOSH", or "HOLY COW," ... Call me or my beautiful wife, ladies,,,,,,and set up a trip with me or her as she guides also, not as good as me, but do not tell her I said that, although she does the posting of my web site, but hopefully she will not read this.....Ha. Try our family guide service, you will be glad you did....Its first class.....even with a big headed fast talking guide....you will be sorry if you dont, I know sounds like a used car, never mind, its winter and I have to go to water arobics.....JD and JoD.
---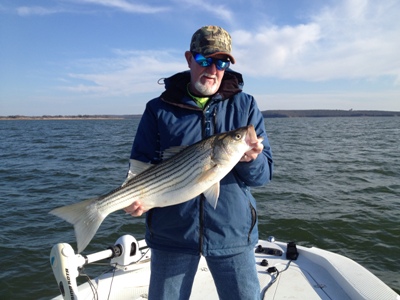 Visit Photos page to see the rest of the pictures

---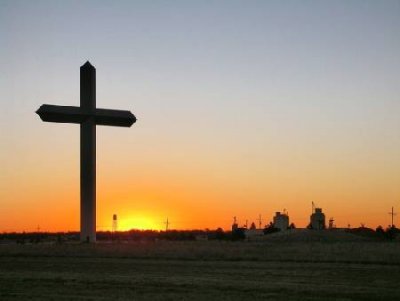 ---
---
---
---
---
© 2000 - 2018 Cross Creek Striper Guide Service
http://striperfish.com
Please read our Disclaimer



Great opportunity to catch the BIG one