Licensed & Professional Striper Guide Service
Lake Texoma Fishing Report
---
April 29, 2013…Boy, it sure seems I get behind with my website, when I get busy with guided trips, but both go together. I had a call while on the lake from a potential customer who was curious about my spring break comment on not re-fishing trips during this time, and if the fishing was still poor. It is not that the fishing has been poor, the weather/wind cause havoc during this period and I do not have control of it, to prevent bad days fishing, is the reason for that decision. You can bet on one thing as far as Lake Texoma, if you going to fish anywhere near this area, this lake is the best. A recent survey on the lake by Oklahoma and Texas has come up with the following:
Fishing Forecast: Anglers can expect excellent fishing in 2013. A great mode of box fish is present and is anchored by several year classes of mature fish. Recent winter fishing has been tremendous as these large fish have been eager to feed. Also, the shad population is in great shape and will be spawning in May.
I can attest to great fishing by almost all my trips in April, even though hampered by still cold weather and winds. The water temperature of the lake, surface, changes naturally in different areas, but hold average of around 61 degrees. The water is clean and nice even though a warning has been put out on the blue-green algae again, which was a joke the last time we went through with such warnings, and feel it is again. Our local authorities will handle this situation again, to avoid millions of lost dollars in lake revenue because of this warning. We will assure you we will take every means to protect you, whether it the water itself or boating/fishing. I will have to make a new requirement on my services, as recently I was of the opinion I would have 4 people on a booking and 2 showed up. I get up as early as 3am, to get live shad for the trips, and gather that bait on the basis of how many will be fishing that day. If I am not told beforehand, (to keep from throwing that heavy cast net for more bait at 3am) I will heretofore charge a surcharge. It is very important to me, to know exactly how much bait I will need, prior to the trip. Hope you understand. Fishing has been getting increasingly better each warm day we have, and will do so, the rest of the year. Most of my weekends are gone in May, except the 5th, 12th, 25th and 26th. Weekdays better, less traffic. You need a Lake Texoma fishing license, $12 almost anywhere, unless you are over 65. I have been doing this guiding on Texoma for 19 years, backed by having a nice big off shore boat, which is clean, and Coast Guard certified, required by guides on this lake. I love fishing children, and although they are charged full price, by taking a space and a limit of fish, I help build life time memories for years to come. Enjoy the latest pictures, and if I left anyone out, it's because I don't like you, not really, just kidding, missed it by mistake, As my navy days, anchor away boys (now girls too I guess) "JD".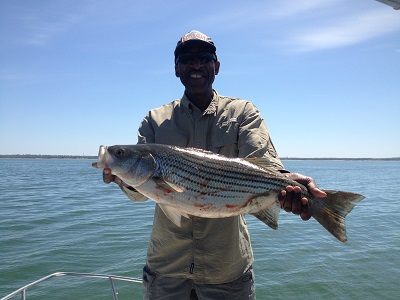 ---
April 1, 2013...Glad to report I had a customer pull in 36 lb. striper this day, and he is having it mounted. APRIL FOOLS. Well glad March is over, as things have been getting better, especially the weather. I had decided with the striper taking their time biting, I would put out some jug lines. This is where I have jug lines out and we run them while heading out to fish for stripers, then back and forth until we have a good combination of both stripers and catfish. Catfish brought in today was 25 lbs., and it should be good like this until it gets real hot. Biggest stripers sorry to say was only 7 lbs., but they are all fat, and healthy. I had to reschedule three trips because of the stripers being out to lunch, or rather in a spawning. This will be over soon, as the water temperature is 55, edging upward, and by the time it reaches 60 degrees, it's time for stripers to be back and hungry. I have almost booked all my weekends, but one, in April, I have several days open during the week. It's time for light clothing and lots of sun tan oil. I am leaving from boat house 14 at Little Mineral Marina, 7:30 now, will fish for 6 hours or until we get a limit, (10 fish per person) I am somewhat less expensive than most guides, but a lot lot prettier. (just kidding) Any way it's time to get those kiddos up, and head the family down to the best fishing at the Striper Capital of the World. FISHING LAKE TEXOMA, sort of has a ring to it, don't it. Hope to hear from you soon, "JD"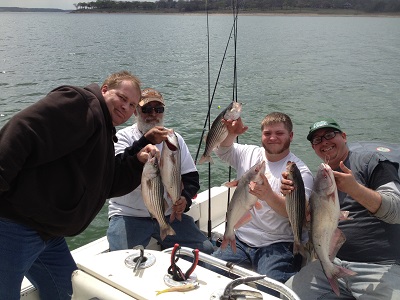 Visit Photos page to see the rest of the pictures
---
March 9, 2013...The fishing has been tough with the winds of March. It looks like I will have to change my policy regarding re fishing a trip, if it turns out to be a bad fishing day, January to April. The early part of the year, when it is still cold, the water temperatures are still in the 40's. It is a good time to catch big fish, but most my time has been looking for some places out of the winds. The gas prices on the lake are extremely high, and I am burning lots of fuel to get to where I need to be, just to be confronted with high winds, and a good place with fish. I have done this for 20 years, and March is the hardest time, with spring break, lots of people eager to fish, but confronted with too many obstacles, most of the time, to do any good. I will therefore limit April-December the time I will re fish the trips, if we do not get fish, as I work hard and run a long ways, just to be burdened with winds, etc., poor days fishing. March is also a month with lots of fog. I work hard to show you a great time, and catch fish, but March days, you never know when you can fish, or if you have a decent chance to get to where you need to be. So far two drift socks, has not slowed me enough to catch fish. If I am on the North end of the lake, I should have been on the West, where ever I can get, but if I could predict the weather, I would probably be a rare commodity, if I got it right. If you have time to re book, when the weather is better, it would be in your best interest to do so, rather than have a poor, cold windy day on a lake with 88,000 acres of water. This is the greatest lake to fish for stripers, but in all reality, some days the fish are just not going to bite. If they do not April-December, and I feel it was in some way my fault, I will re fish for you at a later time. I have a big investment in a nice big boat, with all the fishing equipment, but that does not guarantee catching fish on cold hard days. If you are a true fisherman, you will understand, as you probably witnessed it yourself. Do I sound, frustrated? I do get that way, when the weather interferes with my charters. Another complaint on Lake Texoma, is catching fish too fast! All I can say, is you should have come in March. Hope I have not scared you off, Good Fishing.....JD
---
February 22, 2013...I thought last year was so good, and kept me busy, but this years bookings are out of site. God is Good, all the time. I guess it has paid off, going the extra mile, insuring that my boat is always clean and all equipment is in good working condition, not to mention arranging the best possible lodging accommodations for my guest, even to the point of putting champagne in rooms for special occasions. I have a great knowledge of the lake, having done it for 20 years, and go to extremes to make sure everyone catches fish, each trip. This year looks to be extraordinary in that the fish are huge, and hungry. Its good to have complaints that we just catch too fast, but its the law here, 10 fish, per person, 2 over 20 inches, and that when we quit. We do catch and release only to the point of not hurting the fish, but plan on getting on the fish, lots of action, lots of fun, and back to clean fish and rest. We are catching fish now, although they are a little sluggish because it is cold, but they are biting, and are big. Now dont think it is easy. I start at 3am, getting live bait, ready for your arrival, and we depart at sunup. Fish have a mind of their own, so sometimes it is slow, and they might not bite, but I guarantee results, and will refish it, if I have too. I want you to have fun, and to come again and again. This does not happen a lot, but it does happen about once a year. Not bad for fishing over 200 trips a year. Week days are better as not as much traffic on the water, but I know everyone has weekends off mostly, so weekends book fast. Get a head start now, and call before that date you wanted is gone, as I also guarantee that this lake is the best place to catch stripers, the reason it is called "The Striper Capital of the World". I handle lots of Company trips, large groups, and use only competent guides to assist me, those that are like me, coast guard approved, and competent. I also created, "Operation Welcome Home", a free fishing trip each year for 80 injured and disabled soldiers, assisted by others guides, VFW, American Legion, Elks, with numerous sponsor donations, towards.... transportation, lodging, food, fishing, and fun. Call me for that next fishing trip, you wont be sorry....."JD"
---
February 09, 2013...The last of 2012 was difficult, in that fish were easy to find and bring in a limit, but I have a real problem with my right shoulder. I have apparently torn the rota-tor cuff, and in physical therapy, with surgery a possibility. I figure if I can handle the repair of my nets, and all the other things tied into guiding, I can overcome the shoulder issue. I have just returned from my winter vacation, and starting to book some fishing trips, with old and some new customers. If shoulder surgery is necessary I will have to wait a time to recover, or work one handed. I am still booking guide trips, and hoping for the best. Big fish are running now, on artificial, and will be, until around the middle or March. Then its back to casting for live bait, and so on. Give me a call, I have plenty of good days still open, and you can expect big fish to run year round, as fish are showing up everywhere, in big schools on the depth/fish finder. Anyway, hope to hear from you soon......"JD"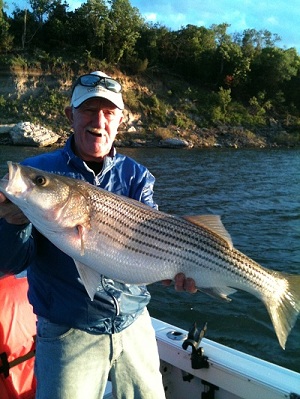 Visit Photos page to see the rest of the pictures
---
2012
---
December 06, 2012...It has been busy here at Lake Texoma the last couple of months. October went out with a bang, November was unbelieveable, and now December is even better. Every trip has been somewhat of a struggle to keep customers on the water. Fish have been biting so fast, that limits on fish are very easy, even with limiting big fish, and throwing back lots of smaller fish. Most of the keeper fish are in the 2 lbs range, with an occasional first year fish, which is thrown back unless it swallows the hook and cant be saved. Big fish run from 7 to 9 lbs. I have gone to larger hooks, to easily remove the hooks, but every trip, I am running fast back and forth rebaiting, and taking fish off, slinging them into the cooler. I am using mostly live bait, with some fish taken on slabs also. The weather so far in late November and now December was warm, but high winds a few days. Most times it is ideal fishing, with a lake which has a huge population of fish in a lake of 88,000 acres. I rise around 4am to get bait, and meet my customers around 7am, and hit the lake. There is a location at Little Mineral to catch breakfast, prior to our departure, and I can attest it is very good. After catching a bunch of fish, we return and I fillet fish and red meat them, bag them for that upcoming fish fry, and relax after a busy morning. I also do evening trip also, with the evenings being much like the morning. Time to book your trip now, with conditions being so great. Winter I will also do jug lines, catching large catfish, along with striper trips, for an extra $100. Be a great time to fill your refrigerator with fish, for the lean times. Call J.D now.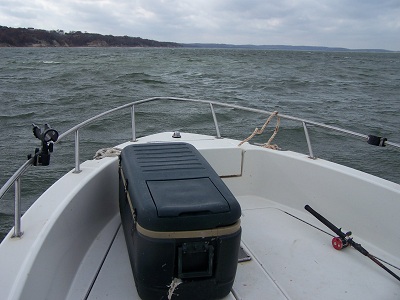 Visit Photos page to see the rest of the pictures
---
October 19, 2012...This month has seen very good fishing, except one trip, and has kept me guessing, "what went wrong?". Although that was discounted trip, I am still going to re-fish it for the guys. I really feel bad for days like that, but they are really far and few between. I don't hesitate, if I feel I did something wrong, I will re-fish a guided trip, and even if I did not do anything wrong. Most days on this lake, the fish bite, some days small fish, and some days big fish, but that's why its called "fishing". I have fished trips all this week, weekdays, and do not have anything on Saturday or Sunday. I hope to get something, but if not, be in church Sunday, Brother Bobby. Give me a call I can make your trip fun, entertaining, and catching fish is the bonus. Good Fishing.....JD

Visit Photos page to see the rest of the pictures
---
September 20, 2012...Well with all the kids heading back to school, and the weather getting perfect, things have slowed down here at CrossCreek Guide Service. The fish do not know the difference, and continue to bite, lots on top water still, and some on bait. Bait is pretty plentiful until you really need it, then everyone is looking for it, but bait is job insurance on this job. Not everyone likes to get up at 4am and throw a cast net, not even me, but need to have a few bait in case top water action is slow. Fishing is normal for this time of year, catch a lot of small ones, then that wall mounter strikes, and those smiles turn into grins. Fish are easy to catch these days, as long as you run from the Dam to Highway 70 bridge, looking in deep water, just to find they are in 5 feet of water, or back west. It is always good to get a guide on Texoma, as most have the fish pinpointed, and you burn his gas, results are easier, and usually prices warrant, his doing all the work, and you all the fun. This first part of September, big fish in the 12-15 lb. range, with lots of smaller fish also. Sounds just too good for you to be sitting at home, wishing you were fishing. Have a good one....."J.D." CrossCreek Guide Service.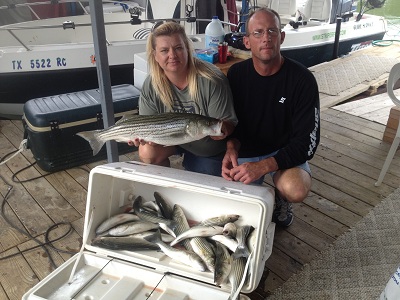 Visit Photos page to see the rest of the pictures
---
August 21, 2012...This month has been busy, and just now getting time to post some pictures of past trips. Although it has been extremely hot, we have done well with some topwater, and bait fishing on Texoma. Being a Guide, I get to do what I love the most, and get paid for it, although not much per hour if your calculate it out. I had thrown out my right shouldern getting live bait, and thats the back bone of this job, getting bait with a cast net, as early as 3am in the mornings. Fish the early part of August have been real big fish, and as the month draws to an end, the fish are smaller, but biting better, as it has been so so hot, now cooling off some. The kids going back to school, has slowed down bookings for everyone, but plenty of work to keep me out of trouble. I have been fishing more days during the week than the weekend, a big switch around, but less boat traffic also. Live bait is thick, but sometimes is hard to find. Changes all the time. I have lots of weekends open, and fishing excellent, so call for a talk or a booking, I can do both, being a graduate of A&M, bred and raised in Texas. Lived in Oklahoma for about 15 years, so either side of this great lake is ok with me. Good Fishing.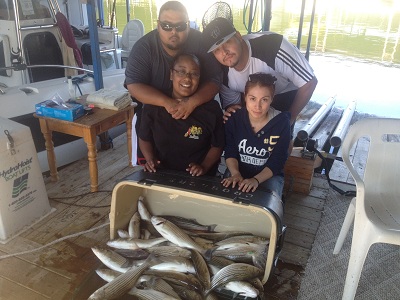 Visit Photos page to see the rest of the pictures
---
July 22, 2012...With the exception of one day, in the past two months, fishing has been extraordinary. We are still catching a lot of big fish, but having a hard time getting a limit, as most fish are over the 20 inch limit and have to be returned to the water. It is getting real hot right now, and any time after 11a, is extremely hot, and fish slowing down, except for the little catfish. We are seeing some top water action, as well as schools of fish so thick, we can use slabs on them. I am booked up until after August 3, so please call me for dates after this. We are using bait also, and 4am sure comes early, but lots of people driving in and not getting lodging here, have to get up early also. It has been some enjoyable times on the water, and sharing a few photos of recent trips.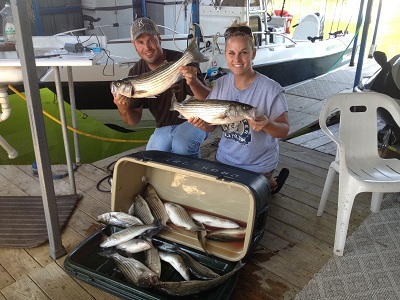 Visit Photos page to see the rest of the pictures
---
June 14, 2012...Fishing the later part of June, has been very good, with lots of big fish, which does hinder getting a full limit of fish, as putting lots of fish back as can only have two fish over 20 inches per person. But its lots of fun to catch those big fish as they fight so hard. We are still fishing with live bait, which should last for at least another month. There are a few birds diving, some days, and easy to find fish that way. I have had several big boat trips, last a ten boat trip, which nearly every boat caught smaller fish this trip. It was a windy day, but fish hit real good. I have several weekends left in July, yet, but going fast, although weekdays much better with less traffic on the lake. Holiday weekends are busy, and have to be done by 11a, before the other boats take over the lake. This is a lake of equal opportunity, as each person on the boat catches 10 fish, and I have spots for a total of 6, with my six-pack captains license. There are several places for lodging, and my boat is in boathouse 14 at Little Mineral Resort. Dont forget your lake texoma license before arriving at the lake. Hope to see you soon, and good fishing..."JD".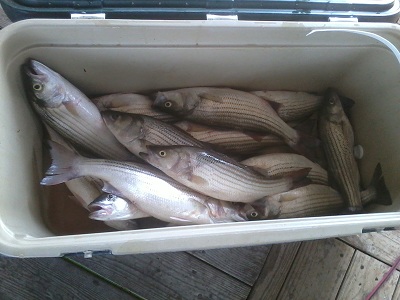 Visit Photos page to see the rest of the pictures
---
June 2, 2012... has started off as expected, with lots of big fish, and limits regardless of the number of people. We are still fishing on live bait, which is most times, plentiful. I expect within 30 days we will be going to all artificial, (chug bugs, pencil poppers, zara spooks, and spoons). I always like this season, as I dont have to get up so early and get bait. I had a 10 boat trip yesterday, and everyone got a limit of good fish, and back in around 11a. I have a few weekends left in June, (9-10-17, and 24) so call if you need a good guide, to help you make the event a little easier. Good fishing. "JD".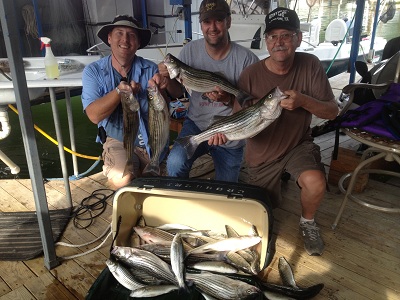 Visit Photos page to see the rest of the pictures
---
May 17, 2012...The "striper capital of the world" is living up to its name on Lake Texoma. The large fish are running, and it is not unusual to catch fish every time you dangle some bait or artificial lures in their face. The large fish are running in the 7-8 pound range, with box fish, those under 12 inches also keeping everyone busy. The fish are in deep water, making it difficult to keep fish off others line in the boat, as you are not just going to reel these fish up, having to wait them out, as they are just too strong. You will be amazed at their strength, and you certainly have to have the drags set right, or you will lose them. Time to get here, as we are busy with both morning and evening trips, getting limits each trip, unless a strong front moves in and changes it all. Give me a call, I have a few weekdays left during the week, and very few weekends until mid June. Good Fishing....."JD"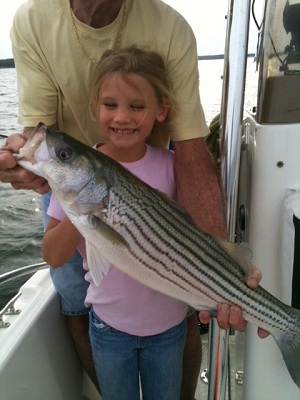 Visit Photos page to see the rest of the pictures
---
April 25, 2012...Well Lake Elevation is 616.89, with water temperature of 68. The big fish are just about through with the spring spawn, and coming back whereas we are gettin a good mix now of little fish, and big fish, all our 20 inch fish. I am fishing mainly with bait, which is quite plentiful early in the mornings, yesterday one throw and almost a hundred bait. Threw lots of small baits back, keeping the medium baits for fishing. Weather has been really nice, although this week expect winds 10-20 and 20-30, mph. I have a 8 boat trip out on Friday, so hoping for a good day, and that we can find the fish in calmer waters. I have a 10 boat trip out in June, already fishing several 3 and 4 boats trips this Spring. Everyone pretty satisfied, and we are keeping them on the water, although catching fish fast. Lake Texoma has several locations to stay while fishing here, and you can contact me for prices and best locations. There are also many nice places to eat, near Little Mineral, where I house my boat. Take a look at some of the pictures, browse my website, check out my competitive prices, and with almost 20 years as a guide, sure you will find me qualified for your next fishing trip. Good Fishing....."JD"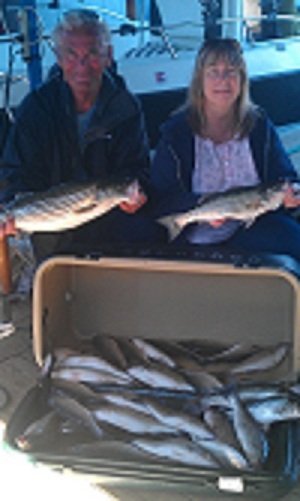 ---
April 4, 2012...I am really getting busy, with all my recent trips, producing good fish, some on the small side, and lots in the double diget weights. I have been fishing some doubles, which means I fish at daylight, get a limit, head in around 1, clean and bags fish, and head out with another group at 2. Evening trips are a lot of small fish, because it is hot and no wind, but ending up with all our fish, and lots of big fish to top it all off. I am fishing with artificial as well as bait, so keeping my customers active. Have had trip with lots of young ones, and they have been getting an experience of a life time. Slipped out yesterday with a fellowguide, prefishing and caught the biggest fish I have had this year. It was around 17 pounds, and a fighter. We released him to be caught again by either friends or customers. Anyway as I have been saying this year will be a banner year for big fish so book that trip and lets get out there and catch fish/have a good time. Lodging is getting to be an issue with the busy season upon us so call now. "JD"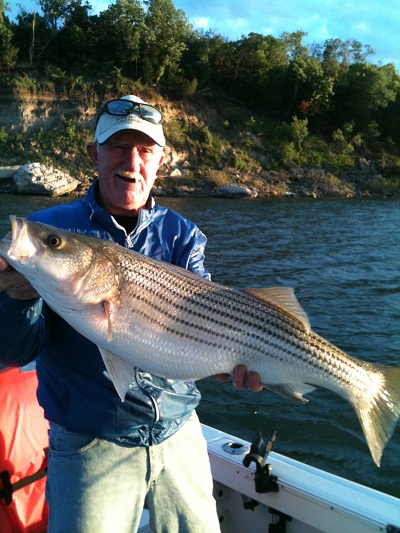 ---
March 28, 2012...Recently the fishing has vastly improved. My last trip, although mosly bait, rendered a limit of 40 fish. We had one that went 11 pounds, and 3 about 7-8 pounds. I have been telling everyone this should be a banner year, as last years bluegreen algae scare, less boats and fishermen, will make 2012 a great year for big fish. The scare is over, and with all the recent rains, our lake is in good shape. It is still a little cloudy from the rains, and with the rising temperature of the water, 58 according to the news, and 63 surface temperature on my electronics. The fish are still not hitting the rod hard, so with a graphite rod and holding the rod in hand, (fishing wth bait) a good set at the first hit, "fish-on". We are seeing a lot of fish topping early morning and late evening, so the lure heads I am making, and tails I am using, is a good combination for excellent results. The stripers are huge that are surfacing, and then we are catching, although recently most fish have been returned, better to go back than to eat our brood stock. The tails I am using are mostly white or glow, as most colors change somewhat in the cloudy water. A slow retrieve, an occasional flick, and if this doesnt work, reel a little faster. After casting, I count to about 15 and retrieve. If fish are on bottom, I let fall all way to bottom, reel, drop, reel drop, until I feel the couple bumps and set the hook. This takes a little more skill than when on bait. I usually take both bait and artificial, as when the fish stop surfacing, I anchor up, and bait fish, resulting in a limit of fish for my customers. I recently spent a bundle on new PF1 life jackets, a requirement of a guide, with coast guard certification. A Texoma fishing license ($12) is necessary as I never know exactly which side of the lake, Texas or Oklahoma, I will be fishing on. I have plenty of good dates open, so call or email for more information. Good Fishing.....Jerry Dorsey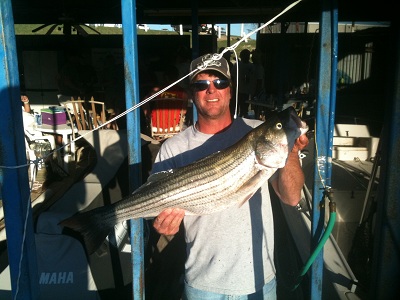 Visit Photos page to see the rest of the pictures
---
February 22, 2012...Not that great yet on our end of the lake, but tons of fish around the points. I have got to get to work, as have spent so much money in the past week, time to make use of what I have bought. I have purchased some "fish-on" rod holders, fishing baits, oil and etc., and something I have needed for some time on this windy lake, drift socks. The water has risen to where we are about normal, and I will post some "before and after" photos, but the lake is in good shape right now. The temp of the water is 51 and the fish should turn on fast with the rising temp and warm condition. Spring break is coming up, time for the kid to get a break, and go fishing, and nothing better than a guide trip, and nothing better than with JD and CrossCreek Guide Service on Lake Texoma. For those bass fishermen, I have been catching a lot of small mouth bass in the shallows, around points. There has been a lot of big stripers brought in, some on bait and some on artificial. I am all geared up and ready to go, with two huge groups fishing next month, 10 boats, but I got it covered with other guides to help. My soldiers fishing trip, free trip, is scheduled for November, and we will have over a hundred, wounded warriors, to take out for a day of relaxation on the water, with the assistance of guides who are giving up paid trips to help the soldiers. There are lots of fish out there, ready to provide great fun to all ages, so get your date planned, and give me a call. Anyway before and after shots of water levels around little mineral. "JD"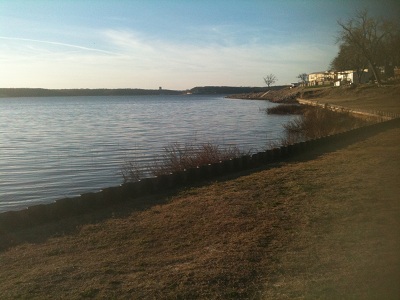 Visit Photos page to see the rest of the pictures
---
February 16, 2012...Well after fishing several days, and no reports, AND vacation on a cruise, I figured I better get busy and let people know how things are here on Lake Texoma. The cool weather, and several rains, have depleted the algae issue, although I never thought it was any problem, but it scared some people away, and business was down last year. We are working daily on getting facts out to the public, that the lake is open for business, and fishing is great. My wife, who caused ear damage to me, getting me off fishing, and on a cruise, pulling my ear, and I thought that tactic was never used until I got my tug. Anyway, I am fishing at least 4 days a week, which keeps me on the fish, and their pattern, but every day is different, some great days, and some slow days. The real big fish are not as plentiful as they were, probably because of the rains, but are still out there. I am fishing with artificial, mostly, with occasional bait (shad), and a limit, 10 fish per person, takes some work on tough days, when the high winds are an issue. It is the best winter fishing, I have seen in some time, although fish are moving constantly, which causes a guide to keep up with their patterns. I have added a porta-pottey to my boat, in case some women have to go, or kids, or men, providing some comfort to wondering where to go, when needed. I also keep my boat clean and electronics in good working condition, and cater to showing everyone a good time, and catching lots of fish. I can handle large groups, fish frys, and whatever you need for your fishing trip on Lake Texoma. We also catch lots of other types of fish, but Lake Texoma is predominally a striper bass lake. We recently caught a record small mouth bass, releasing it for it to provide pleasure to others on the lake. A 15-25# striper will be released, unless the customer has it mounted, to maintain our brood fish and reproduction. We also do catch and release if desired. I stay out fishing until 7 hours, or until we get our limit of stripers. I guarantee catching fish, unless weather conditions (wind) hinders our trip. Hope to hear from you in the near future, and Good Fishing. "JD"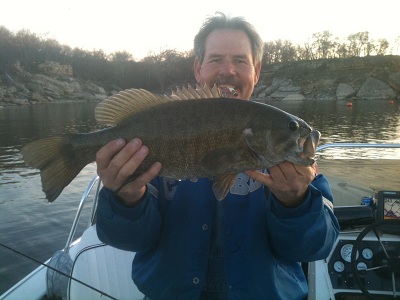 Visit Photos page to see the rest of the pictures
---
January 26, 2012...I guess I have gotten a little lax in getting my fishing reports posted. Last several trips have been good, with an occasional trip, which fishing was a little tougher. I am using live bait now with some occasional artificial castings, or dead sticking, but bait right now in my opinion rules. It normally would be that way since I have to get up at 2:30a and get bait at another marina. The winds have been rough, but when it doesn't blow so hard, it is so still, the lake is like glass. We are still catching big fish, best I have seen in years. Big is anything around 15-20 pounds, which has been none existent since last Spring. We have been getting lots of rain lately, which will stain the lake, causing conditions to change, to what degree, I will have to let you know. The rains have improved the blue green algae problem, and we are no longer under an alert, only to occasional swimming. The fish are good to eat, as long as you wash them well, which I do, at all times. We have been getting our limits of good fish, and it is nice to fill out those coolers, with fish of great size. I will be taking my vacation Feb 5-12, then after that I hit the water again. Good Fishing......JD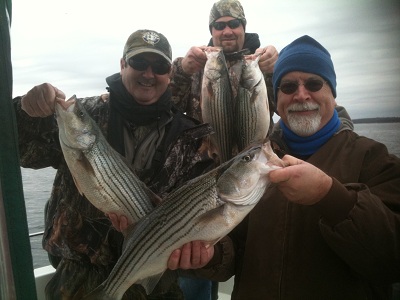 Visit Photos page to see the rest of the pictures
---
2011
---
December 22, 2011...With this year drawing to a close, the last six months have been some of the best fishing I have seen at the lake in 18 years. I strongly recommend that each person try to brave the cold weather and get to Texoma for this fantastic fishing. A couple days ago we brought in a 20 pound striper, with several slightly smaller fish, (17,13,12s) being returned, although the person who caught the big fish, is having it mounted. The lake has been calm, and we are able to find fish from the north to the south, with little problem. We are using live bait, with occasional artificial lures, but our last trip, which was the best we used large threadfins. I will be ready after the Christmas holidays, as I want to be with my family during these times. The fish will wait, and are hungry. Happy Holidays "JD".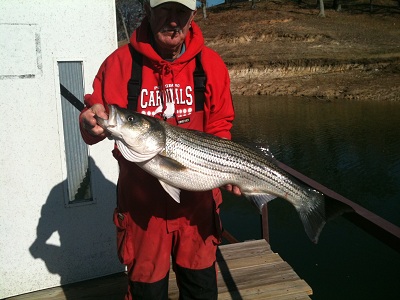 Visit Photos page to see the rest of the pictures
---
December 02, 2011...It has been a wonderful year, especially this time of the year, fall. Although the business has been down because of the green-blue algae scare, that is all over, and now to make up for lost time. We are catching a lot of fish, and on the big size, those from 7-10 lbs. The last couple of months has found us or rather me, using only artificial, and apparently catching larger fish with this method, mainly because I think it is more fun, and more productive with big fish. I have never in my 20 years, seen such large schools of fish, and although this lake is the striper capital of the world, the fish are everywhere, and no problem catching a lot of fish. I am hoping for a mild winter, so we can get out and catch a lot of fish without so much cold and winds. I caught a lot of fish in October to December, taking time out one weekend for my Operation - Welcome Home, whereas I with the help of 11 other guides took our military out of their enviorment, and onto lake texoma for a weekend of free fishing, eating, lodging, and fun. We entertained 55 military men and women from Ft. Sill, Shepherd AFB, and Ft Hood. God Bless our soldiers. Getting back to striper fishing for a living, I await your calls, hoping to make your outing "a once in a life time memory. "JD"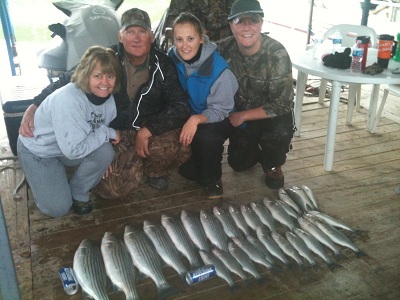 Visit Photos page to see the rest of the pictures
---
November 03, 2011...Latest fishing has been somewhat spectactular, with water temperatures in the mid 60s. (surface) I have been catching fish easily on my side of the lake, from the Dam to back toward the Islands. I have been doing several trips away from my marina, therefore not as many pictures fishing with other guides. I have been using live bait, as well as artificial "slabs" in large schools of fish. Fall is a great time to fish, as the fish are very healthy and fat. It gets somewhat cool some times, so dress accordingly. Especially heading out early mornings. Lots of good dates still available so give me a hollar. "JD"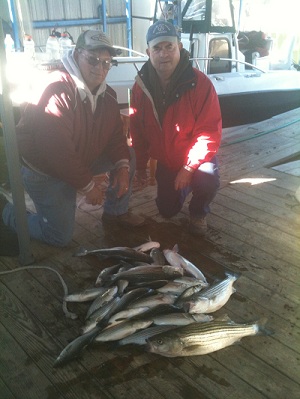 Visit Photos page to see the rest of the pictures
---
October 13, 2011...Well it has finally gotten a little cooler on the lake, with a water surface temperature of 72. We are catching a lot of bigger fish, biggest to 10 lbs. The blue-green algae is still at the lake, but as far as I know there are no problems with the fishing or eating the fish. The mornings are beautiful and a shade cool heading out early in the day. I am working on a second boat to keep up with the bookings, but it has engine trouble so not sure when I can get it fixed. I might just fix it and sell it, as Falcon boats are liked well on this lake. Fishing is picking up as far as numbers (limits per fish per customer) and should be good all the way into December. Anyway give me a call, and lets go fishing. "JD"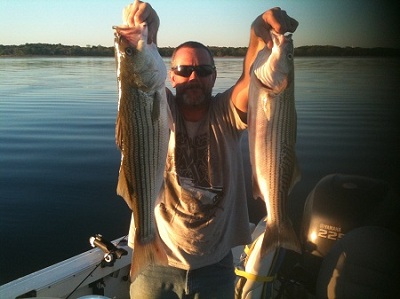 Visit Photos page to see the rest of the pictures
---
September 06, 2011... Recent fishing although being real good, was hindered by cancelations because of weather conditions, and lake notice of blue-green algae. Warning of bga, was mainly for swimmers, but did affect the Labor Day activities. It does not appear to affect fishing trips, nor the fish itself. It is a temporary condition brought about by extreme hot conditions, and stagnant waters. It appears the fish are not scared, as they are still hitting artificial slabs, as well as live bait. The weather has cooled, and ideal conditions, with water temps in the 80s. When the water temps lower, it is setting the stage for fast, productive fishing results. Live bait is still abundant, and the primary source of food for the stripers. I will be accepting reservations for this month as well as on into the winter, expecting excellent fishing conditions, as rain is expected, with cooler temperatures approaching. I require a deposit, and can set up your lodging needs, with departures from the dock around sunup. I anticipate the forthcoming, "Operation-Welcome Home" for the injured and disabled soldiers returning home, and this event is scheduled over the November 18,19,20 weekend. This is an event for soldiers to fish free with coast guard approved guides, as well as others donating their time and boat. It is an event to pay back some to those who sacrifice the most towards our freedoms. Donations are appreciated, but the main issue is to get the soldiers here to Texoma, and show them a great time. We help with transporation, and the VFW and American Legions, help with meals, all in appreciation to the soldiers themselves.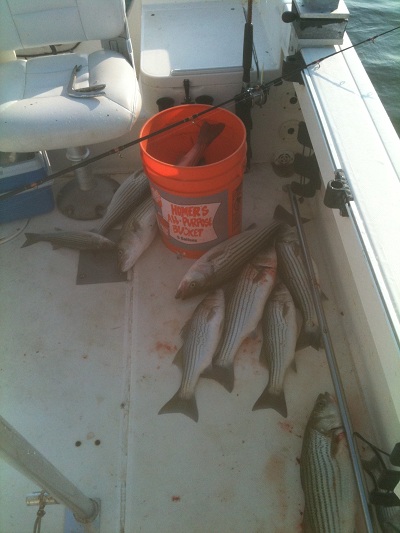 Visit Photos page to see the rest of the pictures
---
August 21, 2011... The last couple weekends have been good for catching fish, and good size fish. There has been the usual small fish also, but for the biggest part, the bigger fish are biting. Bigger, I describe as those which are in the 17-20 inch length. I was on a group trip yesterday, and didnt get to take any photos, but most boats limited, and those that did not, had 25 fish or more. Things are looking up! I am dedicating a lot of my time now to the promotion of my "Operation-Welcome Home", free fishing trip for the wounded and disabled soldiers scheduled for November 19, 2011. A host of other guides are assisting me in providing the boats, their free time, to this event, as well as some non guides who will help also. I am seeking donations to this event, although donations are coming in very well, and the main things is to get the wounded or disabled soldier here for some R&R. I am a Navy veteran, and feel something like this is beneficial to our service men and women. Last year we had 40 soldiers from Ft Hood, but this year could be much bigger.. If you care to donate to this cause, or want to go fishing soon, please get in touch with me. "JD"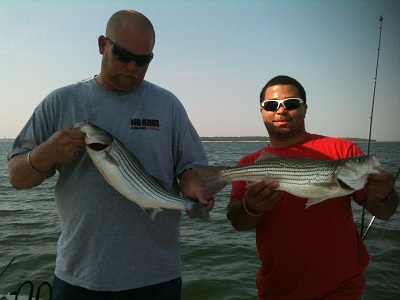 Visit Photos page to see the rest of the pictures
---
August 14, 2011... Headed out with a group yesterday, having to return to get foul weater gear, as rain in the area. My group, Connie, Doug and Jeremy, had more fun as a family out fishing than I have seen in years, all in a constant downpour. We didnt set the world on fire, as big fish were impossible to find, but we had a ball catching small fish, as fast as we could bring them in. We were using all artificial, and Jeremy had fun with the top water action, with Connie and Doug using slabs. We were all wet to the gills when we went in, but it didnt matter. I kept enough of the bigger fish for a little fish fry as they were camped out off of Preston Bend. They promised to return in November, for my Operation-Welcome Home free fishing trip for our Servicemen and Women. Anyone in the area on November 19th, swing by and give a boost to our soldiers, at Lake Texoma. We are departing the docks around 6:30a, near sunrise at this time. We are getting rain in the area, and it should change things soon for exellent fishing for stripers. The surface temperature is in the high 90s. Fish are in shallow water, which is surprising. We are having to improvise to get the bigger fish, but this will change real soon with the cooler weather moving in, and good fish should become constant. Lets get together for a great outing with the family, as life is too short as it is. Call me or email me, and get that trip booked now! "JD"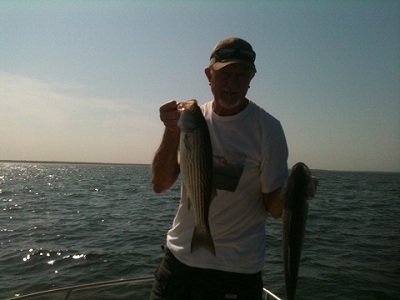 Visit Photos page to see the rest of the pictures
---
August 9, 2011... On Lake Texoma, it is hot, with extreme heat advisories. The Lake looks awsome, beautiful, very little wind, and slow fishing conditions. I am hitting several locations, trying to stir up action, and although catching some nice fish, it is less than desirable, to say the least. I have booked some trips starting this weekend, and expect with a little cooling off, with some rains predicted (if it holds true) next week, it will turn the fish on dramatically. The lake is down some, with surface temperature in the high 90s, which causes occasional top water action, and causing us to move a lot to keep up with the fish. I recommend booking early, as with everyone having to stay inside with the heat, when the first cool spell hits, lots of people are going to want to get outside. Right now I am either down rigging, or using leadcore line, trolling. Thats makes it nicer, with movement, and a little breeze of air, even if it is warm. There is some "slabbing" going on, very little live bait action, as hard to keep them alive in the bait tank, then put them is warmer water which shocks them. It is nice for customers to work with me, to get good results, as artificial fishing requires changes in colors, etc. We are leaving no later than 6am, before it gets too hot, and get done before it is too hot. Give me a call if I can answer some questions or book a trip.... "JD"
---
August 5, 2011... Being on vaction is too much work and I will be back next week. I do not expect too much business because of the extreme hot conditions. Although each day at Texoma is different, good days are awsome, and slow days are s l o w. Exect my honey holes have changed, so I will be out looking around all next week. Am sure fishing will be over when the heat hits around 10-10:30a, so I recommend waiting until the first cool spell blows in (fall) for the more comfortable times on the lake. I am really getting together some good trips the last of September, October and November, my favorite times on the lake. I take the SOLDIERS fishing free, some 50-60 maybe more, on November 19, so that weekend is unavailable. "Operation-Welcome Home" it is called and I get several other guides to help me. Anyway, stay cool and good fishing, call and lets get together. I turn 70 this October, and although RA has bothered me, I am still, the best for my age, around, and maybe THE BEST altogether, with my knowledge and great gift of gab, anyway. Come and I will make you fishers-of-men!..."JD"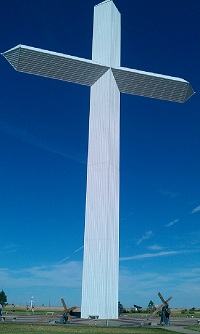 Visit Photos page to see the rest of the pictures
---
July 22, 2011... The striper fishing on Lake Texoma, has finally become remarkable, just when I am starting a vacation until the second week in August. I hope when I return it is the same, as I am really pulling some fine fish. Two days ago, JB Worthem and his son, Zach pulled a 16 pound striper and a 12 pound striper on the same trip. I have been doing two trips a day, in the cooler times of the morning and evening, and getting lots of fish, all good healthy and hard fighting stripers. It has reminded me of marlin fishing, on a small scale, as we have been long lining in heavy populated areas, where stripers are hiding. I will attempt the same when I return, as it is so hot, and movng and catching fish, helps you forget the heat. I have been leaving the dock around 6a, and back in by 10a, depending on the heat. I then leave around 6p and fish til dark, depending on the bite of the fish. I have reduced my cost by $50, because of the shorter time on the lake. You will have to read this report and remind me, or I probably will charge the normal rates. This applies only during this two trip season, and feel the customer would rather do this than, sit out on the lake for hours when it is so hot. I feel it is a time for you to catch more BIG fish, than a limit, although both are possible. Give me a call, as I will be booking fast with these rates and these conditions, which I feel all will really appreciate. I am still in boathouse 14, at Little Mineral Resort, and for mapscape direction, 300 Little Mineral Blvd. This will probably be the best fishing on this lake for a while, as when it starts getting cooler, the little fish will take over. Better fish and filets, until then or the heat causes the large fish to get skinny. Anyway see you on Lake Texoma. "JD"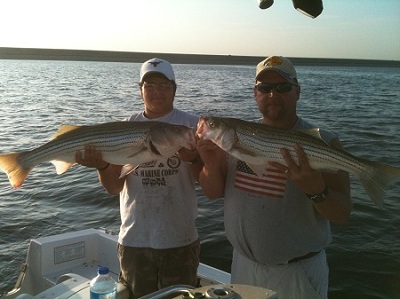 Visit Photos page to see the rest of the pictures
---
July 2, 2011...Well June had passed and I am starting off July with a little time off, to avoid the July 4th crowd, and lots of boat traffic. I am back on the job with a long list of guide trips, starting the 6th. June was very interesting in that we caught a lot of big fish, but sometimes short of a limit, because of the heat index after 11am. There was a narrow window to get it done, between 5:30a and 11:00a. It was the month for BIG fish, and during this month we have managed several fish between 7-10 lbs, with a few at 12 lbs, the biggest 15 lbs, which we returned to the water, as customer did not want to have it mounted. I leave it to the customer, to either have the big fish mounted or returned, as they are also our brood fish on Lake Texoma. According to statistics, 1 year fish will reach 7.7 inches; 2 year fish, 13.7 inches; 3 year fish 18.6; 4 year fish,21.3; 5 year fish 23.2; 6 year fish 26.2; 7 year fish 29.5. A 20 inch fish will take 3.5 years. We are beginning to see some top water action, slowly using less bait and more artificial, such as slabs, sassy shad, top water, etc. I will continue to do what I can to find fish, using whatever technique is needed to get limits (10 fish per person) and the biggest fish. If you want to book a trip, I suggest you get your dates organized and planned well in advance, with a deposit for the trip, in plenty of time to get the date you want. The story is out about the big fish we are catching, the fun we are having, and with the summer upon us, these stories will soon attract fishermen from near and far, so you need to get things on paper. I suggest you dress comfortable for a trip, bring plenty of liquids, and arrive on time, for a better outing on the lake. I will handle the rest. Anyway, Good Fishing......JD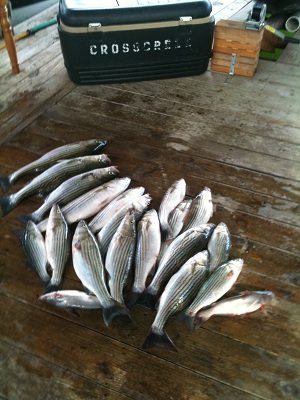 Visit Photos page to see the rest of the pictures
---
June 24, 2011...Fishing continues to be exceptional in the fact we are catching extraordinary large fish, but you can probably not count on a limit every day. The departure time remains at 5:30a, and if you are late, it will certainly hurt your amount of fish taken home. I will let you know straight out, if you cant head out for fishing, while it is just at sunrise, expect poor results. Otherwise, we will work on getting a good box of fish, and today we had 23 large fish, healty and fat, with a 9 and 7 pounder. We also had to throw some fish back, over the 20 inch rule, as we already had our big fish. If you care to see the site of your life, fishing on lake texoma, and get the surprise of your life, then call me and I will set you on some fish, which will take your breath away, and make your arms sore, they are such fighting fish. Call for a booking now! "JD"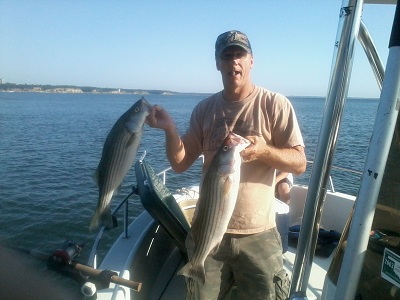 Visit Photos page to see the rest of the pictures
---
June 15, 2011...Well, if you know anything about Lake Texoma, and aware of what is going on, it is unusual as a fisherman to not be here taking advantage of it. Stripers can travel as many as 25 miles per day. When you find there starting point, which I have, and sat between there and their first run, and their turn-around return, the results are lots of good fish, but maybe just under your limit, as you will be throwing big fish back. There are a lot of boats around the location, because it is the only place to be this time of the year, and you will be amazed by the results, anticipating your next time to return to do the same thing. I fished one large group a couple days ago, and they have aleady set up another date for some of the same. Friday I have a 11 boat trip out, with some 48 people, and already told them they have to be here early, 5:30a, out on site, when it all starts. It is a good time on Texoma. The bait is easy to get, although their moving in, conflicts some with our wanting to leave head out for the fish, so timing is important. If you are not a person who likes to get up and out early, maybe its is not your time to fish, as there is a narrow window to get on the fish, catch a limit, and get in before it becomes an over out there. The rest of the month, I have the 19, thru 21st open, 27th thru 30th. Then lots of good days for July... You should be a part of this action. JD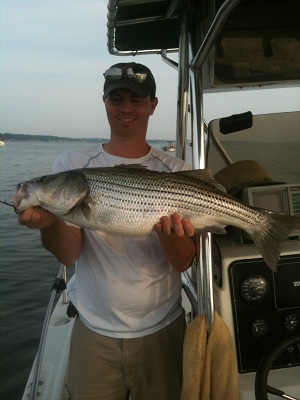 Visit Photos page to see the rest of the pictures
---
June 05, 2011...Fishing has become somewhat normal for the time, with the water temp in the high 70's, and the pattern of the striper becoming predicable, hopefully to remain, as it is good. We are finding fish within a few miles of the homeport, and getting limit of good fish, the biggest today of 12 lbs. We took a picture and returned it to the water, as it was not going to be mounted. All the fish are providing a good fight, which is the nature of a striper. Shad is still plentiful, and I trying to leave the slip around 5:30a, so we dont have to spend a lot of time in the extreme heat of the time. Seems if you are not fortunate to get your fish before it gets so hot, the fishing slows, and could end in not getting a limit. There has been very little wind, and we do not have to anchor, making it a little quicker to be able to move, and get back on top of the fish. If you are interested in a good fishing trip, NOW IS THE TIME. It is ideal, and although the fishing should remain good, the extreme heat with take a little fun out of the trip. We should be in line for good fishing for another couple months, and I am fortunate to have cover on my boat,from the sun, so that helps. Give me a call, and lets do some striper fishing. "JD"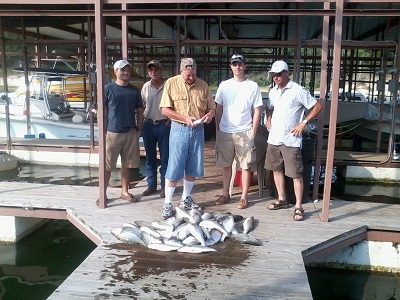 Visit Photos page to see the rest of the pictures
---
June 03, 2011...Well I guess the fishing at Lake Texoma, is a good month and a half behind schedule. The reason I say that, although we have caught stripers sparingly, with no pattern, June 3rd was the first morning in a time, where everything went as it should. I had a trip out of Soldier Creek, three people, and after picking them up, and getting on my anchor around 5:30a, by 6:30a, we had 30 fish! Following this report is some pictures of that trips fish. I guess I cried long enough about the fishing, but now I feel a little more comfortable. It was good, but as soon as it started to get hot, with no wind at all, the bite was practically done. This is when you throw out your chest, pull those shoulder back, swing side to side, and FEEL GREAT. I take back all I said recently about the lake, and living on its reputation, and the fishing being bad, "the bite is on". I will fish every day, now seeing things are back to normal. The first saturday I have open is the 25th, with lots of days during the week, so call. "JD"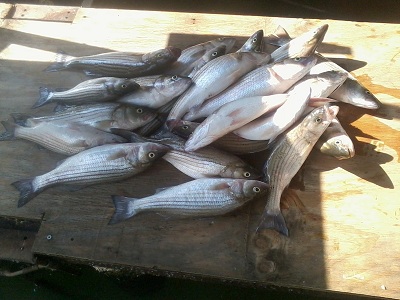 Visit Photos page to see the rest of the pictures
---
May 31, 2011...It has been the toughest time for catching stripers that I can recall in my 19 years on Texoma. Considering the loss of fish, because of the extreme heat last summer; the extreme high winds; the over-abundant amount of shad in the lake; and the late rains, which had an effect on the fish spawn; all these have had an effect on the overall conditions. I have seen some of the strongest storms blow by on both sides of my location on the lake, causing massive destruction and deaths, in its path. The bottom line at this point is unless things get better soon, we are living on this lake reputation for lots of stripers, and not the present facts, that are you could possible catch no fish on any given day here on Texoma, and that hasnt happened in ages. If someone tells you different, then all he wants is your money, as he is broke. These conditions could change, any day, and I would be glad to eat my words, but one good day does not predict what will be happening on the following days. I will fish, letting you know the ups and downs, will be trying methods, trying to catch fish, that I havent done in years, as live bait is not doing that well, and if you keep up with this site, you will get the truth no matter what! If you choose me as your guide, and I havent given up, I will work as hard as I can to show you a great day fishing, and if they bite, great, but if they dont, I did warn you. I dont need the money bad enough to pretend it is other than what it is. I have cancelled some fishing trips, until I can figure it out, and if you want to run with me, for all my experiments great, you could be surprised what we discover, maybe not. I like the challenge, and if anyone can figure it out, I can, and you will see the picture results on this site, and favorable reports, if not, head to the coast to fish. Telling it like it is, "JD"



---
May 17, 2011...We have finally been getting some good weather, knock on wood, and getting some good results with the stripers, although one day is completely different than the other. We have fought high wind, no winds, rain, hail, more wind, and it has gotten the fish wondering what to expect, which is our thoughts also. We have finally got to where we can figure some big fish are going to bite, but if that doesnt happen then we have to resort to getting small fish, so you can take some filets home. The pattern this spring, is that there is no pattern with the fish. If we catch them in one spot, we can not be assured the following day, they will be there again. Every day is a new experiece, but if it was easy, everyone would be doing it. You will have to accept the guide, whether good or bad, cannot make the fish bite. We are getting boxes of good fish one day, and small maybe the next. Dont think that the customers dont have something to do with this, those that know how to fish, make it a little easier, in getting the limit. Those inexperienced will just have to catch on quick, and do what is told them, and after catching a few fish, everyone is therefore experienced. The time is upon us to book those trips, mainly as the weather is not so severe as the early sping, and may showers, and at least give us the calm seas to fish. Also the fish are ready, and once finding them, hang on! Take time to get your family, or friends together, and head this way, and let me work my butt off to show you the best experience at Lake Texoma. Good Fishing......."JD"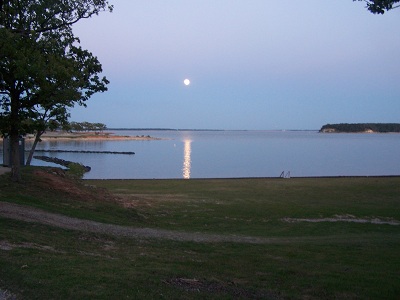 Visit Photos page to see the rest of the pictures
---
May 12, 2011..Last couple days, Mid May, we are finally getting good limits, with big fish, all our over 20 inch fish. It is really awsome, and something we have been waiting to happen. I am booked pretty solid on weekends, a couple left in June. Few days in the week, so if you ready to catch some good fish, give me a call. I do have some evenings left also, which starts at 1:30. "JD"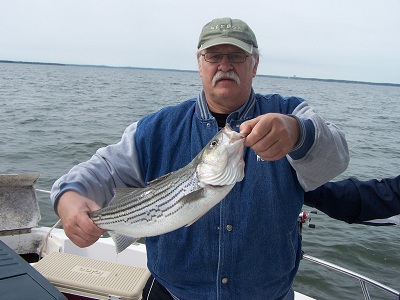 Visit Photos page to see the rest of the pictures
---
May 8, 2011..This past week has been a very difficult time, and a time you scratch your head, and ask what is going on? Although we have been having severe weather, even on the nice days, we have been running a long distance to try to find fish, stripers mainly. One day you can catch lots of good fish, some days lots of little fish, and some days just a few fish. It is not typical for this time of the year on Lake Texoma. The later part of this past week. we even resorted to taking lot of sand bass. Although they are lots of different places in the lake, for sand bass, they have schooled mainly. a good run from home port. The sand bass are big, and right now a guarantee of nice filets to take home, even if it is not striper. Naturally it is the same principal, catching fish, if your not interested in catching some sand bass too, under these conditions, I am not your guide. I can not guarantee stripers during these times, and here are a couple reason why. Whether it is the sole reasons, I am not sure. Last year we lost all our shad because of cold weather, and lost thousands of big stripers because of the extreme hot water of the summer. With the shad being restocked, they have came back this year, and they are everywhere. Although this lake can generate natural spawn, for stripers, because of flowing water, and a slight salt content of the waters, it takes a couple years to get good size fish, and several years to replace the big fish which we have lost last year. There are still thousands of stripers still out there, mostly small, but most probably that trophy fish numbers are down. We deal with reality, guiding on this lake, fight the weather conditions, loss of fish, loss of bait, but you have the best chances around, fishing Lake Texoma, for catching lots of fish, and we will just have to live with the conditions, realizing every day, it can be different. So regardless of these challenges, taking a chance my possibly losing business, you are aware of the facts, and regardless of how the guide might be, some days are going to be hard, but I dont know a guide on this lake who wouldnt want to catch you your limit, each trip. I will always do my personal best each trip, to provide the most fish possible, as well as show you a good time. I might not be the best guide on this lake, but feel I have a good rapport with my customers, to visit with you and keep you entertained while on a fishing trip. Catching lots of fish is secondary, which I am good at also. JD

Visit Photos page to see the rest of the pictures
---
May 3, 2011..Well with April showers, high winds, hail, and a few good days thrown in, it was not that bad really, here on Texoma. I have been getting limits, mostly small fish, with a few nice ones, when you least expect it, but it was a fun month, regardless of the obstacles. May is a settling down month (hopefully) and I am booking several trips each day, so the fever is hitting the sportsmen, although most want the weekends, no more saturdays left. Week days are the best, with less traffic, and the lake for ourselves. I am being hit by the high gas prices, as everyone is, but not having to leave my side of the lake, to find good fish, so that helps. I have really gotten some cool customers this last couple weeks, and with a couple hard days, we have limited, fast enough to get off the water before the high winds moved in on us. Had the Cousins, Lains, Parkers, Mills, Fields, and a few groups from other guides I did not know, but was a great time, with bait fishing, and some top water at times. I dont like to fish on Sundays, would rather be in church, but with the season, I have to do what I have to do, and I call it my witnessing on the water day. We are expecting a great May, with lots of beautiful days, so if you need a guide who really wants to meet your fishing needs, give me a call. Good Fishing.. JD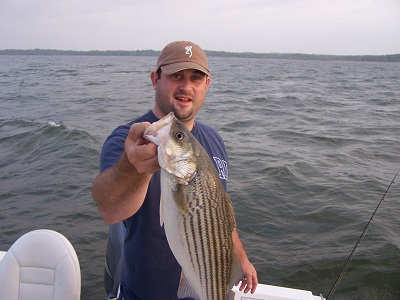 Visit Photos page to see the rest of the pictures
---
April 18, 2011. Well April is beginning to become a better fishing time, at Lake Texoma. Seeing that we have had numerous weather changes, overcast, and high winds, we are beginning to see a pattern, especially in using live bait. We are having to travel a good ways to find feeding fish, but sometimes we dont really realize, we are running across a lot of fish, closer to home. But we are depending on ole patterns, where the fish are these times of the year, and there we go. We have caught some good size fish, and the usual smaller fish, which swallow the hook, but it is better than no fish, which has haunted us this Spring. We are drifting, anchoring, with a little casting of sassy shad, depending on what we see at the time. The weather or the wind really predicts what methods is the best to try, but need to be flexible also. The sure thing is birds working, but they havent been up, long enough to limit out, then back to whatever is working. Sounds hectic doesnt it, but it's fishing this time of the year. All my Saturdays are booked for April and May, but still some good dates in June, but it starts getting hot during this time. June-July-August are great times for big fish, if patterns are the same as the past. I have some Fridays left, and trying to hold off on Sundays, to be in church, but I will do what I have to, as its my job. During the week is the best, less boat traffic, and pressure from lots of other guides running across the lake. Anyways call, and good fishing, "JD"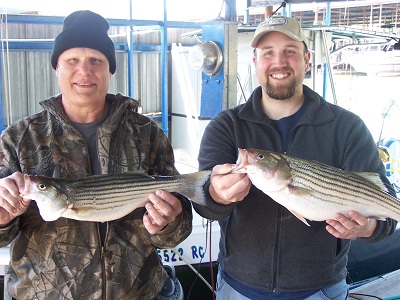 Visit Photos page to see the rest of the pictures
---
April 12, 2011. It is apparent that each day is completely different during the last month. We have been contending against high winds, cold, and barometer changes daily. We will have a good day with nice stripers, then it will change to struggling to find the fish and get them to bite. I have been carrying several fishing rods, as each day it is a mystery what they will hit, bait or artificial. It is interesting to have to go back to old methods to catch fish, as we have been so spoiled over the last several years. I had a good day yesterday, but was only on a pre-fish trip, and it dont count other than to fill the frig. My bookings are increasing with the warmer weather, and I am going to have to prove my worth with the upcoming trips, but I like the challenge. The water temperature is around the 60 degrees mark, and if the wind lays a little, we can have lots of fantastic trips. If you are heading this way, plan to be on the water for a good while, as, unless it changes, we are going to have to work for our fish. I might be eating my words, but with all the live bait in the lake, it tends to keep them fed, and to find the hungry fish. I am ready for a little increase in the action, but then that makes me only get paid more per hour. I really prefer a nice steady bite, chance to have a cool one, look the lake over, and relax on one of the best lakes around. Good Fishing! JD
---
I guess it wouldnt hurt to have a meteorologist explain the reasons for things that are occurring on this earth regarding weather, as it surely would explain some things which make fish eat or not. This part of the early season, March, has been anything but a predicable time to be out looking for feeding fish. It happens every year, springbreak, and time for kids to be out of school, and people ready to get out of the house and go fishing. It has been one of my favorite times of the year for fishing, and catching big fish, but not this year! I have seen winds in excess of 30 mph, white caps scary to the eye, warm weather one day, and extremely cold the next. I have been west, and I have been east, looked at depth (fish) finders which were blank, filled with fish, with then a little of both. I have seen fish deep, fish shallow, but no direct pattern to work by. I have even see fish hitting the topwater, which I dont recall ever seeing in March before. I am lucky I have had some real fishermen with me this spring, who understand the difference between fishing and catching. I have cancelled trips, rescheduled, fished, and have to refish because of some bad days. One thing I am absolute certain about, it is around $87.00 to fill 5, 5 gals of gas, to put in my boat per trip. It is also a fact, I better have some extra warm cloths for customers who think it is going to be warm and nice on the lake, the date of their trip. It is good, I have catfish jug lines out, as they have saved the days on some occasions. As an indication, my first two trips were rescheduled twice, and they havent made it to a good day yet. The first actual fish day, turned out better than thought, after I compared it to the following two trips, which consised of high winds, and very few fish (refish these), then throw in the nice day, with a limit of 20 fish; followed by a cancelation because of bad weather, 40 mph winds, and 2 individuals with bad back, one being me. Considering all these things, this is still one of the best lakes in the World for catching fish. I have trips starting again this Friday, and looking forward to the challenge, as good warm weather is headed our way, and April-May-June are good months for lots of fish, with July-August big fish, artificial months. I thank the Riha, West, Boland, Davidson, Feltz, Adair, Davis, Steele for working with me through all the trials and tribulations of this Spring, as always a bad day on the lake if still better than a good day in the office. The fish patterns are beginning to take form, so if I can get some good weather, its on. Its time for fishing, friends, maybe a cool one, and being outdoors with family. See you on the water......"JD"
---
March 24, 2011. Fishing report: Well I guess we have finally gotten some fish on our end of the lake, starting the "biting" season, instead of the fishing season. I got up at 2am and got bait, thread fin shad, and returned to my slip to tie lines, and rig up my equipment for the Adair father and son trip. They arrived around 7am, and we head out with the winds building up to just short of gale force. I past up some birds working, because it was so rough, and head to my "spot" where the fish had been the day before. I was not able to get set up because of the winds, but did work some banks with artificial baits but no takers. I finally anchored in a out-of-the wind spot, and pulled only a good size crappie. The winds died down some, and I head back to where the birds had been working, but they were not working, so I found some fish, and anchored on them. It was slow but I was in the right area, so stayed with it, pulling a few smaller fish. I began to see some patterns returning, with the fish biting when on anchor, splashing them up, but it was s l o w. I picked up and drifted some, then the birds blew up, and the fight was on. I ended up just short of a full limit of stripers, but went in with about 15 nice stripers, one nice crappie, and three-four catfish. A nice day since it had been really tough the lst part of spring. I think this is going to be a banner year, now that it seems to have kicked off, and although we lost a lot of fish in the heat last summer, there are still plenty of great fish to catch regardless the time of the season. I have most of my weekends booked but still plenty of good days in the week, which is better anyway, less boats and less fishermen.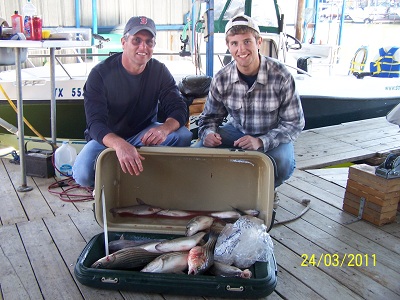 Visit Photos page to see the rest of the pictures
---
March 21, 2011. Fishing Report: I use that term loosely, and it is more fishing than catching right now. I dont know whether it is the weather, the fact the moon is closest to earth now, or the fact we lost a great deal of fish last summer from the extreme heat. I do know it is hardest I have seen to get fish right now, and I think that is lake wise. There might be a few catching fish here and there, now and then, but its not that great for me. It is too unpredicable, and I dont guarantee fish under these conditions. I have postponed some trips, put them back on a later date, and those who could not reschedule paid the price, and suffered the consequences. I am only being honest, and although I am paying dearly for the chance to be at the top of the websites, I am now asking you to wait, until you hear better fishing reports. The thing that also bothers me, it could change in a day, and I wont be there to take advantage of it. I do have some juglines out and catching big catfish, but the stripers are being very hard to find on a daily basis. I know this report is not to my advantage in an effort to book trips, but I have to be honest. Book your trips if you must, but until it gets better, April-May-June could be the better months. Good fishing....."JD"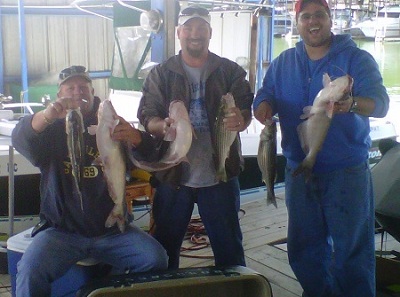 Visit Photos page to see the rest of the pictures
---
March 10, 2011. The fish are beginning to be active, but it is too early to say if it will be good everyday, as we have changing weather, and wind, to contend with as we do each year. The water temperatures are showing in the 50s, but are different at different locations on the lake. We are doing a combination of things to get the fish, and with a little work, and time, we are getting our fish. I am picking up several trips each day, and thanks to goggle, texoma.com, key words, fishing, lake texoma, whatever, something is working. I always worry that I wont be that busy, but God always provides. I have been asked a lot to discount trips, for one reason or another, but it would not be fair to discount one, and not another, so I try to keep my costs the same for everyone. I have lots of good dates left, so give me a call. See ya on the water. (picture is an average fish we are getting now, but all are healthy and fat. "JD"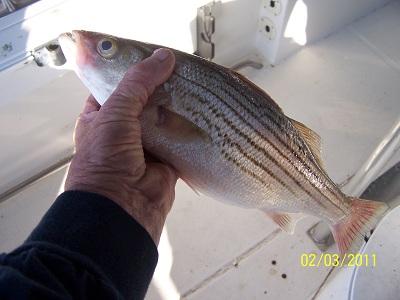 Visit Photos page to see the rest of the pictures
---
March 07, 2011. As indicated in previous reports,regarding poor conditions, it has changed, this is the time, the fish are beginning to cooperate, and we are getting good results. If you like to cast, fish with bait, or whatever, although it is not the premier time, the fish have begun to move, and we will be getting busy fast. I like this time of the year for big healthy fish, and I state, you better be ready to head this way, as its on! Call......903-786-3981. "JD"
---
March 05, 2011. Times are tough on Lake Texoma. The weather has caused me to reschedule some fishing trips, because of the cold and winds. The usual patterns are now unusual, and it is tough to get stripers to bite. We had some good temperatures last week, but not well enough to raise the water remperature, and cause the fish to feed. What fish are being caught are nice and healthy, but it is hard to get our limits of fish. Many guides are fishing for large catfish, so it is not all a lost cause. Catching large catfish is fun on rod and reel. I have a long stretch of trips, and preparing to do what is necessary to get fish, and large ones as I promised. We lost a lot of fish last summer, lots of big ones, because of the extreme heat, but I caught good fish the last of last year, and know they are still out there. It is unknown when they will turn on, and until they do, we will be out there doing our best. Any day could be the day, and like March has always been, we will contend with the rain, wind, and cold, with a barrage of good fishermen, out there doing what we like best, fishing. Good dates, and lodging will still be an issue, so if your up to the challenge, tired of being in all winter, call and lets get out there, on beautiful Lake Texoma. Whatever the conditions, this lake has the best chances of getting fish than anywhere around, so with my experiece and equipment, your skills, that is the best combination, for good results. JD
---
January 26, 2011. I will be dedicating a lot of my time this year to the wounded soldiers returning from battle, with the fishing trip on Lake Texoma scheduled in November 2011. I will be unable to fish the weekend of May 21, 2011, as I will venture to Pt O'connor for the Warrior Weekend event, and try to learn things to make the free fishing trip for the soldiers at Texoma, in November along the same lines. Also with the consideration of fishing with me and CrossCreek Guide Service this year, please consider a donation to the event, as it is only a reality if we received the donations toward it. Try to put yourself in the soldiers position, particularily with the disabled soldiers, what would you like to have given to you, except for money, or replacing a limb, other than a honoring them for their service to their Country. JD
---
January 18, 2011. I know a lot of you have already gotten a fishing trip in line for this coming season, but was wanting to let everyone know, and many of you already know from fishing with me before, but March is an excellent time to catch big fish, and not much work, except to bring them in, as I long line for stripers. Last year, as years before, we have brought in lots of mountable fish during this time, already have the fish on your walls at home. Keeping in mind that this is the cool time of the year, it is also a time that the fish are real fat, and hungry from the winter months. Call me if you want to do this, as other later times of the year, it is a lot smaller fish, but they do bite faster when the temp of the water is in the 60s. JD
---
Well my fishing season or at least my bookings are doing great, so if you want to fish or would recommend me to someone who might, please do so, as some of the prime times are getting booked, and I want to stay busy this year on Lake Texoma. We will be doing the take a soldier fishing again, so please consider also donating again this year, as it is a very worthy cause as you well know. Hope your Year goes well, and again if someone needs a fishing guide have them please call me. Jerry
---
January 13, 2011. Happy New Year to all..Well as far as fishing this time of year, I guess I am a land lover. I have never found the cold weather or the fish to be interesting enough to freeze to death. I feel I dont hate the fish that much, and know it gets better fishing during the spring, and the rest of the year. The fish are somewhat more healthy and fat, with less pressure that the prime fishing times, but during the cold, bait is hard to find, and so are the fish. So if your interested in prime time, March to December, I'm your man. I will be at a few of the fishing shows here and there, but the best way to find me is my website. My prices are competitive, I have a nice clean safe boat, and have been doing this for 18 years. There will be times the fish will not bite no matter what, but that time is less than 1 % of the time, and weather is a factor during these times. I guarantee fish, unless I tell you it is not a good time to come! I clean and "redmeat" all your fish, bag it, and all you need is to bring a cooler for the filets. You are welcome to bring whatever drinks or food you desire, but with a large group, lets not overdo it, and limit our space with numerous coolers. I provide all the equipment, unless you have your favorite rod and reel, but most of the time my equipment is all that gets used. March is cool, and I usually long line (troll) for big fish, and if this does not work I fish live bait at some of my honey holes. When the water temperatures are around 60 degrees the fish bite fast, and it is not unusual to get a limit fast. 10 fish limit per person, no exceptions. I am Coast Guard approved, carrying required license, etc. I keep cabin reservations at the finest locations, and if there is ever any exceptions let me know. Hope to hear from you soon, Good Fishing......."JD"
---
2010
---
November 22, 2010. Along with the fishing recently which for me has been great, we had the " lst annual take a soldier fishing",on Lake Texoma. November 19-20-21, it all began with check-in at Tanglewood Resort, who so wonderfully handled the lodging, etc., at a huge discount. Marsha Coleman of Tanglewood, was also instrumental in getting a dinner set up at the American Legion MIA post 231. After check- in on the 19th, the 32 soldiers, from Ft Hood, as well as the 11 guides, and spouses, were treated to free hamburger and beer, from VFW Post 7873. The following morning at 7am, we all headed out for a free fishing trip, from guides, David Beason, John and JR Hoppis, John Brett, Nick Abate, Mike and Bret McKinney, Chris Carey, Brian Pritchard, Daryl McGee, and myself. In my boat, I had large donor, Harold Ferguson, Craig Riha, and KXII TV News, Victoria Maranan, who caught her first striper on a trip where we limited out with 30 fish. We also had KTEN news come out to Little Mineral and do an interview on the event as well. We had a great rib dinner at the American Legion, and the soldiers left the following morning. The fish over the past couple weeks have been caught on anchor with live bait. The TASF was followed up by a large two boat fishing trip with the Riha family, whereas we limited both days, with nice stripers. I have several opening for the next couple weeks, but will complete my season until next spring, as I have never liked fishing in freezing conditions...JD
---
October 27, 2010. The weather is cooling and fishing has improved. I am deeply engrossed in a project, "take a soldier fishing", whereas I have 40 soldiers from Ft Hood, coming in the 19th of November for a free fishing trip,with the numbers increasing with other veterans interested also. I am seeking donations towards the cost of all this, with numerous people and businesses helping out with these costs for lodging, food, etc. I have 10 boats ready, with other guides donating their time and boat, towards this project. Until then I am working on getting limits of bigger fish, and more time on the water, having fun on the greatest lake anywhere close to this area, "The Striper Capital of the World". Hope to hear from you soon......"JD"
---
October 9, 2010. The fishing is still on the difficult side, because it has not cooled off that much. We are getting some cool weather this week, and it should be getting a little better. I am beginning to book rather regular, and time to earn my keep. I am going to fish the next few days, and will be (hopefully) showing the fish, and the box of good fish, which is normal this time of year. I will be trying lots of different methods, long lining because fish in shallow water; live bait, which is ample at this time; and some artificial lures, hitting some points, and drop offs. I expect soon the birds will be working also, which affords some good top water, and lets me know were there are lots of fish. I will also be putting out some juglines, if anyone is interested, for large catfish. Call and let me know your preference, and book that fall trip....."JD".
---
September 15, 2010. Because of the poor quality of the fish recently, that of being so skinny, because of the hot temperatures and low oxygen, I have not booked any trips until things get better. You can find someone to take you fishing, but until the fishing gets better, probably in 2-3 weeks, I will not be taking anyone on a fishing charter at Lake Texoma. I have open dates in October and November, so book early as with the tempatures cooling off those dates will book fast. Call for a date, and lets get together for some catching...JD
---
August 09, 2010. Well took off a week to attend a class reunion, and learned that a close friend, and fisherman, Bob Riha, passed away this past week. He and his family, friends, had fished with me for over 12 years, 2 times a year. I went to the funeral in Amarillo, and met with his daughter and sons, and Mary his wife since 1960. I returned to the lake and got right back into the pattern, fishing 4 people, leaving the dock around 5:40a, and back in before it got hot, around 7:30a. The fish were on the small size, but we had them going, with the two young boys, handling the fish well. Their Dads suppied lots of support, and joined in the fun. The fishing is good, but you cant take a chance, looking for big fish, as if you pass around 9ish, it gets too hot, and the fish quit. We are catching lots of fish, missed several big fish, the last trip, but thats fishing... It is hot, and I wont lie to ya, better bring lots of liquids, and dress cool. If you want big fish, plan to stay a little longer, and get a little wetter from the humidity. Good fishing...JD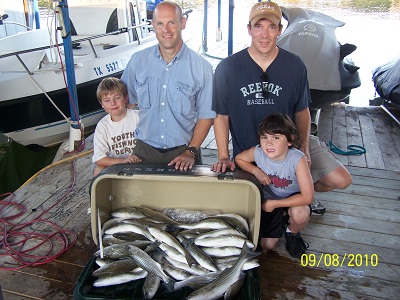 Visit Photos page to see the rest of the pictures
---
July 18, 2010. Fishing has been really good. We are letting a lot of fish go back, as we have our limits on fish over 20 inches. Some trips we like a few fish on our limit, because of throwing lots of fish back, and running out of live bait. Days are really hot, and I dont do evening trips for this reason. Its always a lot better in the early morning. Good fishing....JD
---
July 12, 2010. I have been real busy, and not able to post fishing reports in some time. The fishing has been great, catching lots of big fish, and some trips cause us to not get limits, as throwing too many fish (too big) back. We have been able to get shad now, so I am using live bait, and it does not make any difference what size, as the fish are feeding so well. We have been departing the boathouse at around 5:30a, and back in before it gets so hot. Now is a great time to come to Texoma, but I am taking vacation around the lst of August, so get ahold of me and lets get in that fishing trips while things are so great. Dont forget to dress cool, get those fishing license, and bring lots of cool drinks......"JD"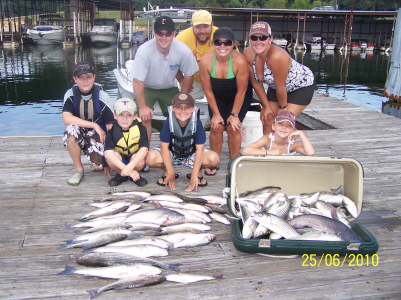 Visit Photos page to see the rest of the pictures
---
In the last couple of months, we have gotten to the point of catching good fish, real fast! We are using live bait, shad when we can get it, and shiners when we cant. We are leaving around 6am daily, and usually back in by 8, after some catch and release and our limit of ten fish per person, 2 over the 20 inch limit. It is getting real hot, and it is good we can get it done before it is unbearable. I have a few dates left during the week so call soon as I am getting filled out on dates quickly.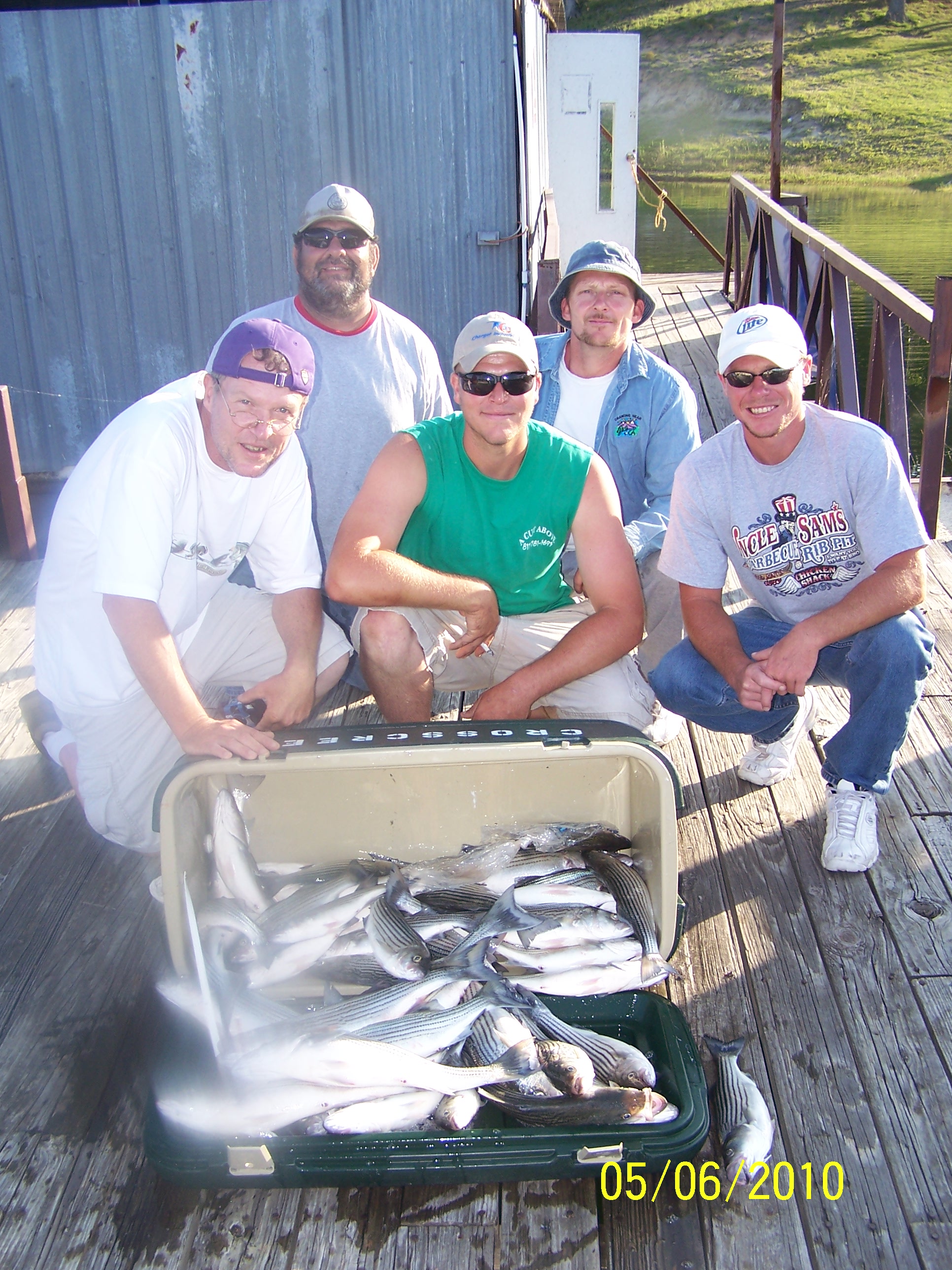 Visit Photos page to see the rest of the pictures
---
The fishing has become somewhat complicated. We are getting shad at a different location as they have all died on Texoma, and being their primary sourse of food, and gone, we now use shiners. The water had gotten so cold during the winter we lost all the shad, nary a one left for our fishing trips. But the good news, other than having to travel an hour to get shad, we can also catch stripers on shiners, although it takes a little longer to "getter er done". We are getting our limits, good fish, some small fish, but springs happiness into customers, with a lot of filets to take home. It is getting close to our summer fishing pattern, with topwater and slabs, getting out of mothballs, ready to take over the live bait pattern. I am having one of my best seasons, with my customer base, and keeping quite busy, so call early for those desired fishing dates, with the best ahead of us for the remainder of the year. Good fishing......"JD"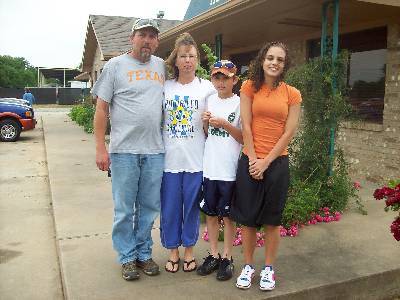 Visit Photos page to see the rest of the pictures
---
Fishing has been very good, although we have lost all signs of shad, and having to use shiners. I have been traveling elsewhere to get shad, and it had been a lot of work, but worth the efforts with big fish, and good limits. I have fished a great deal, and other than leaving my camera home on occasions, have some good photos to share. Lots of days open during the week, but most Saturdays are gone to July. Call for a date, and lets gets together for some catching....JD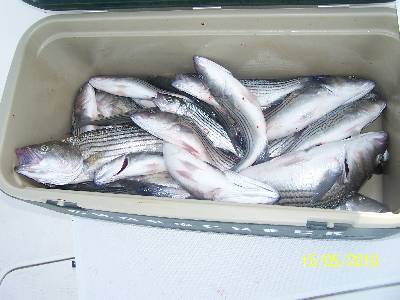 Visit Photos page to see the rest of the pictures
---
Fishing Report, April 2010. The last few days fishing have been up and down, as was the weather. Fronts coming in, with high winds, or no winds at all. Each day has been awsome and beautiful on Beautiful Lake Texoma, and CrossCreek Guide Service, your truly, has been a part of it all. My big off shore rig, taking the big waves with a hugh smash; following the fish pattern, catching lots of fish, and really enjoying the great outdoors, with old friends and new friends also. We are not bringing in lots or real big fish, this comes in about a month more frequently. The water temp is around 63, so fish schooling, and lots of fish each trip. Still have some days left during the week, and a few on Sunday, but all Sat., gone in May and June. Call me if you need my services. I am still working hard on the "Take a soldier fishing" event in November, so call me and ask about it, or send a little donation to help get them here in November for a free fishing trip, with lots of fun. "J.D."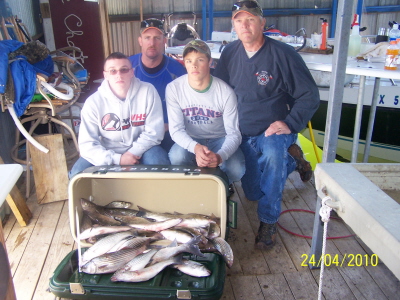 Visit Photos page to see the rest of the pictures
---
Looks like I am behind dating back to April 4, so I will update you, from there. I have fished almost constantly, depending on large shiners, as all signs of shad are gone. They froze out this winter, so the Spring started out with pattern of Long Lining, and then on to live bait. I have gotten my limit all but one trip, which was an extremely high wind day, and I offered a refish on that, even tho, I worked hard at it. Since then I have gotten trips with large stripers, large cats off my jugs, and fat fish It is very good fishing now, with limits coming quick, with lots of catch and release until bait is almost gone. All my Saturdays are gone, thru July, but I have some Sundays, and some weekdays open, so call quick. Also check all the fishing reports on www.sixoldgeezers, an excellent site for information on Lake Texoma. Also consider donations to "take a soldier fishing" and you can see that info. on the old geezers site also. Good Fishing......"JD"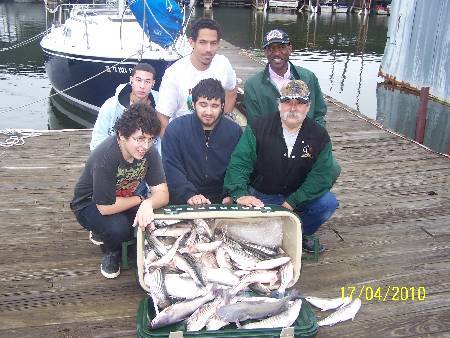 Visit Photos page to see the rest of the pictures
---
Fishing report: April 4, 2010: I have done some good trips this month, and only one I was not too proud of, but that's fishing. I have been long lining, not that that is my preferences, it is I am good at it, and catch more big stripers. It will phase out soon, and then we will be on bait again. I have recently undergone a melonoma surgery, and caution all towards protection from the sun while on the lake. I have lots of good trips ahead of me, but right now wish I was booked every day, while I am on a good pattern. We have caught monster fish, lots of fish, and had loads of fun, and while I am still able, being a senior citizens as I am, I want to be on the water as much as I can. My journey as a guide will soon be over, and my vision as a retiree inside a camper off the shores of some ocean, is in my focus. Get in touch with me and lets go fishing, while I still have the fortitude to be your guide. Here is some shots of this March, up to April 1.

Visit Photos page to see the rest of the pictures
---
Fishing report: March 24, 2010: Although the weather, winds, rain and hail try to keep me off the water, it does, so very little to report as far as catching stripers and big cats. I have had to cancel some trips because of the rain, hail and high winds, but thats March for ya.
---
Fishing report: March 12, 2010: Striper Fishing on Lake Texoma with Guide J.D. Dorsey, has proved awsome this spring, with some very beautiful weather, and great results. I got my jugs out, and yesterday, had two 15 lbs blues on same jug. I harvested some nice cats, and on to longlining for big stripers. I ended up with lots of stripers, biggest to 10 lbs., and threw lots back, but kept about 20 for this group. Would guess had several stripers in the 8-9 lbs range, and they will see another day, as return them to the water. The water temp is around 48 in spots, clear where I was fishing and yellow and green were my choice, although a red nose and blue did well too. Call for a trip, week days better as most weekends gone, so lets "getter done" Have a good day, J.D.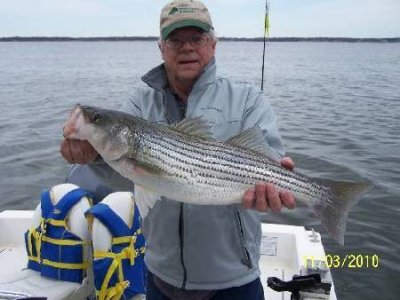 ---
March 4. 2010 same report, biggest this time to 12 lbs. Great fish, Great Day.
---
Fishing report: March 2, 2010: Putting the fishing shows behind me, I took an ole friend from my home town, out on a little seek and find fishing trip, since we finally had a pretty day. It was a lot of seek since I had not been out in some time, but finally nailed down one of my ole fishing holes, and let him see how good he was at bringing in the "big one". He needed a lot of practice since he fishes out of Greenbelt Lake, but he finally got the hang of it again, and brought in some nice ones. It looks like the Spring Break coming up, will find Lake Texoma ready for the kids, and I am glad since I fish 20 of them in a couple weeks. I am posting a few pictures of yesterday, asking that if you have a free day or two, give me a hollar and lets go fishing , not hunting.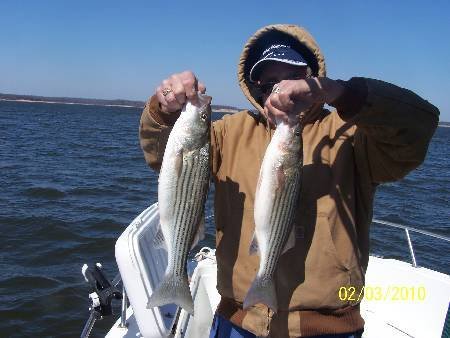 ---
Fishing report: February 19, 2010: Because of the expensive cost of becoming Coast Guard Certifed, carrying the six pack license, all new safety devices, extending to maximum liability insurance requirements, inspections, etc., I will have to increase the cost of fishing on my charters to another $25. In light of all the added protections for my customers, I feel it is one of the best things I can provide to make your fishing trip safe for all aboard my vessel. It is probably something that should have been done for some time, and if you talk with a guide who does not have this protection for you and your family, tell them you are calling a guide who is interested in your safety and welfare. I am also working harder to sastify my customers making sure I stay on the water fishing for a total of 6 hours, whether we have a limit or not. Also I will be filling out a passenger list information packet prior to departing the docks, in case someone needs to get in touch with you while you are on the water, and for added protection. Thank You, "JD"
---
Fishing report: February 8, 2010: Catching some nice stripers, biggest to 16 lbs. Fish healthy, and good fighters. Although it is cold and rainy, the fish dont seem to care. We are having to go some distance to get to the fish, so need to wear rain gear, and dress warm. I will be putting out my catfish jugs the first or March, so will check them in conjunction to my striper trips, costing a little more for the jugs. I have plenty of good dates for the warm-weather fishermen, and upcoming spring season, so please call, and I want to keep busy while the bite is on. I have a couple shows, one in Wichita, and one in OKC, so if you get a chance, swing by and say hello. Also I wanted to mention that I am trying to organize a free guide trip for our soldiers, returning from Afghanistan, and expecting some 40 soldiers out of Ft Hood, mid November, asking for your prayers, and any donations to be sent to takeasoldierfish.com, letting me know of your intentions, and noting Lake Texoma on the donation. Thanks, JD
---
Fishing report: January 9, 2010: There wont be a lot of news during the winter months, as most guides do not fish in the extreme cold here at Lake Texoma. Today it is 12 degrees, -10 degrees wind child, so not a good day to be on the lake. My last trip last Wednesday, the fishing was skimpy, as fish were as sluggish as the live bait. I used Flukes and live bait, and had to work to get anything, although the six I fished this day, were avid fishermen from Alaska, and weathered the lake, much better than this ole senior. We went out of highport, west, where we found lots of fish, but few that active. We tried lot of methods, but did not get our limit, but all-in-all we had a very fun time, pulling a few stripers and white bass. I am starting the fishing shows, trying to have some candidates for fishing now to wait til Spring Break, third week in March, when everything kicks off, in full gear here at the lake. See you at the shows, and call early for those charters, and I get real anxious to go to work around Spring Break. Enjoy the winter in front of the fire, and call when the weather and fish are ready for a battle . Your guide, J.D. Dorsey
---
Fishing report: January 1, 2010: Well I have had some time off and time for me to do some visiting with grandkids and family away from the lake. I spent Christmas in Pampa Texas, about 30 miles from where I grew up, Groom Texas, USA. I also visited family in Amarillo, Canyon, and the Clarendon area. Although I suffer from the change of altitude, I always manage to have a great time, visiting, and seeing family and friends until time to return to home, Lake Texoma. I really think the plains are a great place to visit, but I am always grad to return home and get back to busness. As I return to the lake area, I see an unusual cleaner surrounding in Grayson County, a marvelous job by our County Agents, and cities in the area. Remember when you come here, look around, and notice the beautiful surrounding, even before you get to the greatest lake anywhere around, a choice where I made my home now, and with the greatest job ever. You know we have a great fishing lake here, but if you also want to bring along a camera, you can get pictures of some of the most beautiful sites anywhere in this beautiful county of ours. As we head into the New Year, lets thank God for what we have here, all he has done for us, bless our troops who are fighting for it all, and look forward to a Great 2010. If you dont know anything about my home town, it has the tallest Cross in the Northern Hemisphere, and I will attach a photo of it, taken recently. Try to enjoy the creations on this great earth, and thank God you are an American. Come see us, when you can, and have a Great 2010. Happy New Year. "J.D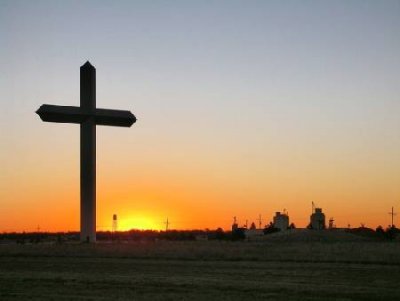 ---
© 2000 - 2013 Cross Creek Striper Guide Service
http://striperfish.com
Please read our Disclaimer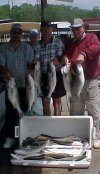 There is no place better.