Licensed & Professional Striper Guide Service
Lake Texoma Fishing Report
---
April 18, 2014...As you may know or not know my wife does my fishing report, guides with me, cooks, cleans, makes me take my meds, and handles the money. All seems fair except the last. I do the rest. I do know my expenses are high, so I had to raise my prices some, but still competitive. Years ago, there was this tactic that we guides used, when bait was lean, and we had to catch fish. It was the umbrella rig. I have since started using this tactic, and it has proved a life saver for catching fish. Our lake has very little shad, therefore my reason to fish all artificial, and the umbrella rig. I can fish up to four people using this method, with one assisting me in netting the big fish, then swapping out until we get our limit. Just yesterday I got my first limit, because we were throwing big fish back, as you can only have 2 over twenty inches per person. Now we are catching some smaller fish to finish out the limit. I use Captain Macks rigs, which are high quality, and get results. If a time comes when these do not work, I will change but now and I expect them it to work whenever. If you dont like to troll, do not use me, as I use every method that works to catch fish. If bait comes back, I might change, but their coming back this year is doubtful. All weekends are practically gone, but week days better, less crowds, more room. Anyway see ya on the water, and good fishing....."JD"
---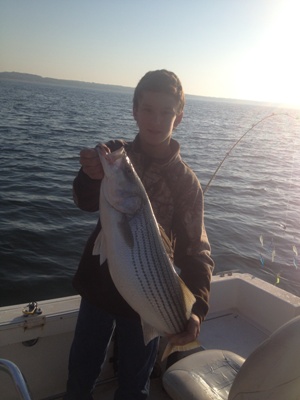 Visit Photos page to see the rest of the pictures

---
April 12, 2014...Well, I was waiting for this date and report, as we cleaned house today on Lake Texoma, as well as yesterday. We are catching big fish, biggest today was 13.5 pounds, with lots of fish a little under this. My wife JoLean and I, were on a five boat trip I booked with my regular group, every year, and we had a ball. My boat won the big fish, but JoLean was just a pound under mine. My customers took lots of pictures and videos which they will send to me soon. I suggest if you are ready to get out of the house, NOW is the time to book that trip. I have some dates still left in April, very few weekends in May, but JoLean can handle my overflow as we fish right together and she is a crackerjack guide. The water temp is around 60 degrees and the usual time that the fish turn on and feed. Because of the recent cold spells, the fish have not spawned, and are fat, and big fighters.....Can't say enough about our success, so hurry and call, I am pumped......"JD"
---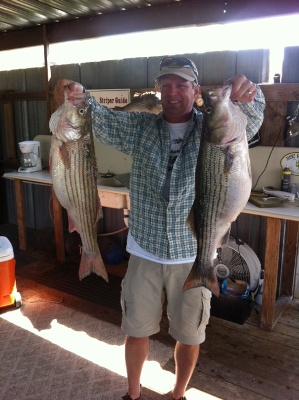 Visit Photos page to see the rest of the pictures

---
April 7, 2014...I will just tell you one thing, and you can take it to the bank. If you read all the reports about the great fishing, you better think again. If you look at the extreme weather we are having, water temps still in the 50s, wind and rain, with unpredictable conditions, how could any fish be hungry. We have lost our bait fish, gizzard and thread fins because of the cold water, although there are days when shiners catch fish, but those days are limited right now. As I have stated in previous reports, we are about two weeks behind on the great fishing. I believe this year will see lots more lure fishing, bigger fish, a 25 pound caught recently, and different methods required, to get the fish to bite. Right now expect big fish, but not every day you can get a limit of 10 fish per person. Now you can get a limit some days, more work than usual for this great lake, so the challenge is catching, more than just fishing. I will be using lures, trolling, down rigging, everything short of dynamite. The cost for all this is extreme also, buying lures, line, bait, more cost for the gas I have to use to run further or troll, so with my cost will be reflected in the cost of a trip. I still charge less than most, but even a tip will help under the conditions. I do not want to scare you off, but take this weekend for instance, me and my wonderful wife fished 6 people. Temperatures in the 40s, rain, wind, but a determination to catch something. No picnic for sure, but that is fishing. As you are aware I can not control these factors,my wife and I are excellent guides, not Gods. My 22 foot Triton, and my wife's 20 foot Falcon, are what it takes to provide transportation, we are located in boathouse 14 at Little Mineral Resort, where we clean and bag your fish, so that along with our determination/dedication is the best we can offer as guides. We might have to run a long ways to find the fish, schooled, it might not be convenient to the marina, so dress according to the weather, I am tired of giving up my coat to keep someone warm, but this will soon end if the warm weather ever gets here. Here is this weekends best shot. Have I said too much, scared you off, or are you a real fisherman. Plan on a great outing, and let the fish biting, be the bonus. With these conditions, your chances are better at this lake than to run off somewhere else, and miss out on the hundred of 12-20 pound stripers in this lake. "JD"
---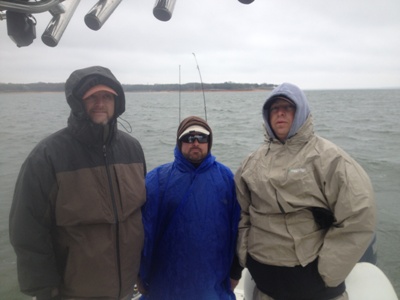 Visit Photos page to see the rest of the pictures

---
March 18, 2014...Well as I had expected , March has been cold, windy but good, mainly for big fish, some 15-20 fish a trip, and biggest between 14-15 lbs. March 17, after a wind and cold 16th, was not good, unless you consider 3 fish, and missing a big one at the boat. Seems it was the same for everyone. I am hoping for some warm weather as the water temp is about 48-49 degrees, and I like it around 60 degrees. I am still booking trips fast, even with the inclement weather and my fishing posts. Bait is hard to find, unless you want to run about 25 miles to get it. Things will change, as it usually does, and we will all be happy with lots of fish, and limits on most days. Time to book those trips, get out of the house for all those who have been suffering from cabin fever like I have during Jan and Feb. I am letting those people who hit my website, then email me about the price for a half day, my fees are posted, and I dont give discounts, for children, or anyone, or do half day half price trips. My trips are 5 hours at the most, and if we get a limit before that, we go in, as can not take any more fish than the 10 fish per person limit. I work hard to get you your limit, red meat, fillet your fish, and bag them. I take you right to the fish, and if for unknown reason they wont bite, nothing I can do about it. Thats fishing. I have a 98% success rate, catching limits, but if I make a mistake and dont get fish because of something I did, then I might make you an offer to refish. I am confident enough to make that offer with my experience of 20 years guiding on Texoma, and my success rate. Anyway hope to hear from you soon, and spend a great day fishing on beautiful Lake Texoma......."JD"
---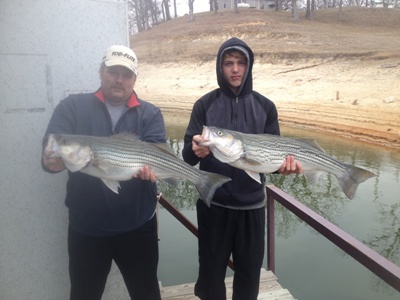 Visit Photos page to see the rest of the pictures

---
February 25, 2014...It seems lately I have been giving a weather report rather than a fishing report. I do apologize for that but to me it has been cold, and glad I have not fished that much. I had expected warmer weather, which is the usual at this time, but I suspect that is some couple weeks away. What I am doing right now is some artificial, such as deadsticking, and tossing rubber, but my main interest is to restock my equipment, preparing for whatever it might take to get my customers the most, and biggest fish, on every trip. Spring Break the second and third week of March is near, and I have lots of open dates, as seems no one wants to even book anything, while they are cold. Does there seem to be a pattern here, exactly. The only problem with that is the early bird gets the worm, or in my case the better days. The importance of getting dates set, is to insure, the date you want naturally, but also to get reservations set for lodging, if you stay overnight. Weekends always book up fast, and weekdays are sometimes pretty plentiful. My 22' Triton is ample room for 6, but my 20' falcon I limit to 3 or 4 at the most. My wife JoLean guides out of the falcon boat, and do not be fooled, she is a lot better guide than most men out there. She will be out of service for a few weeks with knee surgery, and her son, will fill in, most probably. He is very handsom, bench presses 400 pounds, but no he cant outfish me or her, but will some day. He loves fishing, and although having a regular job, will be assisting now and then. A word of advice for those cute little girls, I book my boat before I do his. Next month, since we lost a lot of live bait from the lake, (because of real cold water) I may have to resort to trolling or long lining, which produces large fish. As it gets warmer, I will go to live bait, with less big fish, but mostly all times, get a limit. Make no mistake about it, I will work to get you the biggest fish, and a limit, each time I go out, regardless of conditions. The main thing right now is to get the guide you want, and get those dates booked to insure accommodations, and the right guide for your charter. I have done this for over twenty years, and always work hard to keep you entertained and catch a lot of fish. This lake is a fountain, filled with fish, for family, oh sorry, I always wanted to be a poet. Call now and ask for JD or JoD. We guarantee you a wonderful time, and catching fish is the bonus......."JD
---
January 25, 2014...Well Happy New Year to everyone. After my last fishing report, I felt I needed to update things going on here at Lake Texoma. We have had lots of cold weather, as I am sure you have experienced the same unless you are a good distance from this area. I have not done a lot of fishing, mainly because of high winds and real cold conditions. I can tell you one thing, there is some good fish being brought in, but this is not constant, on a daily basis. If you are in the location where the fish are hitting, you can bring in some huge fish, but it is unlikely that you will get a limit. It is hard to figure out what the fish want, so I have to take several different selections, and use what color/method they are wanting. There is hardly any bait fishing going on, as the fish are too selective, sluggish, and have to be lured into feeding, but the results are amazing. If things go as expected, unless warming is higher than expected, this will continue into February to mid March. Spring break, the 2nd and 3rd week of March, things begin to change, and if the winds are not too high, results are better, and somewhat easier. I do not guarantee fish during times that it is hard to get from one place to the other, because of weather conditions. Other than that I guarantee fish, and if it is my fault, and lots of others are getting their limits, 10 fish per person, I will refish your trip at a later date. Not many guides will do this, but I do not want people to come a long distance, and not get fish. I call assure you that striper are great to eat, after I get the red meat out, and your fish are all meat fillets, and ready to eat. I am getting lots of calls now, so if you want to set up fishing trip, get in touch with me, to insure the date you want. Low water conditions here, will not affect the fishing, other than us having to watch low water areas for structures. Striper are extremely good fighters, so get ready to hang on, as the challenge is on! I provide everything in the way of fishing, so all you have to do, is get ready for an outstanding day on the water, catching great fighting, and great eating fish. Look forward to hearing from you......."JD"
---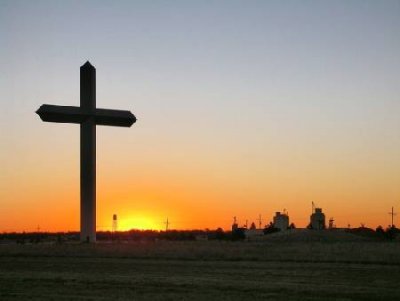 2013 Fishing Reports
---
---
---
---
© 2000 - 2014 Cross Creek Striper Guide Service
http://striperfish.com
Please read our Disclaimer

There is no place better.