Licensed & Professional Striper Guide Service
Lake Texoma Fishing Report
---
November and December 2013...Well the good fishing days during November was hampered by bad weather, winds and cool, going into December as well. I had to cancel a lot of trips because of the ice and cold. It was not the typical November or at least like last year when fishing morning and evening trips and limiting out with good fish, 40 in about two hours. Yes people, there are days when you can not get them to bite, as was the case yesterday, December 1. I will not book any more trips in December as heading to Arizona for a little R & R with my wife at her mother. I need the rest too, as it was one of the best years I have had, business wise. I met a lot of new people, and fished a lot of old customers again. I might add if you check out the site, you will see lots of pictures with lots of, and good big fish. There are poor days, when fish will not bite, so if you can not afford to pay high prices for fishing, and fish wont bite, try something else, as its fishing. I have a 98% success rate, fishing on Lake Texoma, and no longer guarantee fish, unless it was my fault you did not get your limit. I am a striper guide not a striper God. Not trying to scare you off, as I have a great boat, two boats really, have guided for 20 year on Texoma, but best fishing in my opinion is March through October. There are great days in the winter, on artificial, but mainly I do not like to fish on cold and windy days. Anyway see you in the spring, unless I get so tired of sitting on the bank, I will take a trip in the next couple months. Good Fishing..."JD"
---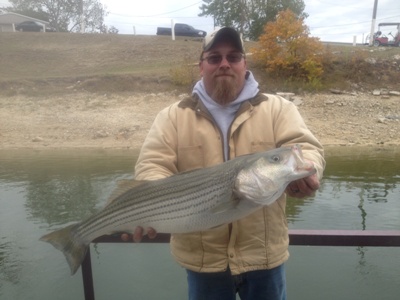 Visit Photos page to see the rest of the pictures
---
October 30, 2013...Wow, how times fly when your having fun. Had to check my last fishing report to see where I had been, and back in September, sounded pretty dismal, but truthful. As I had stated it did get better, and now since the water temp in back in the 60's, big fish have returned. Bait is getting easier, and you can choose between gizzards or threads, whichever you prefer. Also there is a lot of top water, birds hitting the surface, and big fish under them. My preference is to drop bait down about 40 feet, and warn my customer to "hang on" and do not try to force the issue, as the big ones take a little time to get in. Biggest fish in a month was a 12 pounder, but several of those, as well as 6-7-8 pounders. There is also lots of smaller fish, and we do have to keep those when they swallow the hook. I have fished 15 trips out of 21 days, so far, and one day out of those, the fish just would not bite, but we did get a 10 pounder out of the trip. Those people came back the following week, and limited out on good box fish, with a few small ones also. My free fishing trip for the soldiers, 30 from Ft Hood, and 30 from Ft Sill with several stragglers filtering in, will take place November 15 through the 17th. I get donations whereas we pay for their transportation, lodging, etc., and the VFW, American Legion, and Elks providing meals while they are here. I have guide friends (17) who provide their boats and time to contribute to this event. It is called Operation-Welcome Home. It is our 4th year to do this for the wounded and disabled soldiers protecting our country. My ole Navy experience, and commitment to the military, came up with this back in 2010, and it has been a success every since. My wife has made up a cd with all the pictures, and I am hoping she can incorporate it into this report or website. She is the brains when it comes to things like that. Anyway, it is time to try your skills at catching stripers on lake texoma, with the guide who has 20 years experience, nicest/safest boat, with a gift of gab, a grandpa who loves kids, and works very hard to show you the best time fishing you have ever experienced. Oh yes ladys dont forget,a porta-potty, which provides privacy when it has to be done. Men, you have your choice, and I wont go into all that. Hurry, it going to be cold before long, and sitting around the house will get old. Fishing is good year round, but myself I like it when nice outside, and not cold/windy. Anyways, good fishing......."JD"
---


Visit Photos page to see the rest of the pictures
---
September 24, 2013...Well my two boat guide service, has been doing wonderful except for two obstacles. Bait and Fish. Our routine for a fishing trips, is to arise at 2:30am, and head out in the dark and get bait, shad which is the primary food for striped bass. This has been difficult, as I usually get around 200 baits for two boats, and recently it has taken every minute up to 6:30am, to gather bait. Then we head out to get fish, which were scattered recently because of the arrival of fall, and colder weather, and other barometric changes. It has been getting more difficult also in that the fish are small, and we have been used to catching big fish, and having to throw many back, then not being able to find smaller fish. This trend will not last long, as the striper have to feed some time, and their time is coming. I know this is not a very good thing to report, if I am interested in getting business to the lake, but I am truthful about the conditions, so be forewarned. It will be over, when conditions of fall settle down, but right now small fish compared to what we were doing. I am still booking trips for CrossCreek Guide Service, keeping me and my faithful partner, and wife, JoLean busy. You will not find any two people, working any harder to provide the best fishing available on Lake Texoma. I am really proud of my wife, as you wont find many women, nor men, interested in dragging out of bed at 2:00am to "go get bait". This cowgirl, grew up in these conditions and a hard worker, so a good addition to my guide service. All the women on her trips,. are encouraging her, "Go Girl"., as there are not many women guides on this lake. The fish are in deep water, shallow water, leaving us to do a lot of running, looking, so enjoy the boat ride, until we find those babies, and hook you up to "catching". Things will settle down some, probably by the time of my next trips Friday and Saturday, with a total of 12 boats out fishing for us. Anyway, come on down, and let us provide you with a great time on Lake Texoma, Striper Capital of the World." JD and JoD

---
September 05, 2013...Well I am so ksited! This is the way our 11 year old granddaughter used to say it, but to us it is "excited". I have added another boat to my fleet, with my beautiful wife, JoLean as the Captain. I am not sure that was a good thing. She guided with me back in 2006, but I sold that boat out from under her as a favor to a friend, my bad. She has guided 4 trips, the past week, a total of 10 people, and brought in 114 fish. That is under hot conditions, a holiday weekend, with lots of boats, waves, lighting, wind, but she is a trooper, and as she said, "I taught her well". I will let her fish anyone, except good looking guys, and those that have other than fishing on their minds. I do background checks, just kidding. Sunday evening, hot, holiday weekend, 3 boats lost bait, and had to go back out and get more, but we finally found the fish, and came in just short of our limits, 10 fish per person. Monday morning, I finished at 8:30 with 30 fish, all nice fish. JoLean had the big fish, 10 lbs, 22 fish, as did the other boat on my trip. Fishing has been great, lots of big fish, and lots of fun. I have done something last week I would never have guessed. While pulling in fish, they wanted to swim, so out comes the rods, and in go the swimmers. You know my feelings about that, but their money. We then rode out a storm, kids splashing their feet on the bow of my boat, then back to the fish, and in with a limit of fish. This lake is unbelievable. Personally I have only a couple Sundays open, (Bro.Bobby will be glad to hear that!) on the weekends, but several days during the week. I can fill the other boat, although she is with me on 5 other trips already, mainly on the weekend. We have a great guide service available with the most reasonable rates, and we maintain our boats, keep them clean, and I have even added a porta-potty in my console, for convenience. Geez, am I getting old or what. Great advantage ladies. We depart at 6:30a each morning this time of the year. We have lodging available, locally, and nearby; we keep our boats in boathouse 14, Little Mineral Resort; clean, bag, as well as redmeat your catch, and lets just face it, we are great guides, with fun personalities. Well unless my wife out fishes me. Give us a call, 903-786-3981 or send an email, jddorsey007@yahoo.com. See you on the water, and Good Fishing. "JD"
---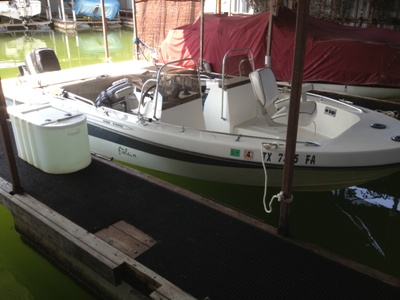 Visit Photos page to see the rest of the pictures
---
August 17, 2013...I am curious about what some people think a fishing guide on Lake Texoma does in his spare time. Many do not have a lot of spare time, if they have been guiding for 20 years. Having a somewhat solid customer base, which includes regular customers, as well as friends, you can keep pretty busy. OK lets take the last two days, as I was off, what would I do. These two days are not any different than any other two days, as I keep busy doing something all the time, although I do something different. Yesterday I worked on my mancave, which I have been redoing for some time. It was an ole work shop, (here where I bought a year ago near the north end of the Preston peninsular), built in two sections, so it was by no means level, nor erected by anyone who can call themselves a carpenter. So, this means it will never be level, nor worked on by anyone who calls themselves a carpenter. Now my great uncles were, but somehow I have to work to make things looks anything close to normal. I have completely paneled the shop, oh sorry mancave, and insulated it through out. Now to the past two day, right, yesterday I put up trim, really to cover my mistakes, and then cleaned the area, ready for company, although there have been no more than two people ever in the mancave, me and my wife. But you never know when you might have someone over for a couple drinks and maybe some poker (I would have been a gambler if I had ever won anything to provide me a living, so its guiding instead.) The shop or mancave is still a shop also, as it has air conditioning I put in, insulated, with a refrigerator, and with the air, I wont be working outside for a while. Ok the first picture is the completion of my man cave. Sweet right. Today, I cleaned my boat for several hours in slip #14 at the marina, threw away lots of ole lures, which I have hung onto but not used in ages. Carried out all the trash, and got ready for my trips coming up this weekend. 2 hours of throwing for bait and my boat will look the same as before I cleaned it, but I can not stand a bloody or dirty boat, even if a customer could care less. I got gas, and headed back to the house, just in time for the swing stand I had ordered came in. I put it together, and believe it or not, me and my wife can actually sit on it, without it caving in. Actually all the training I have had with the man cave, placed me right in line to assemble the swing. Now if I ever have time off from fishing (do not stop calling, someone has to pay for this stuff) I will have a place to sit alone, either inside or outside. Anyway cheers, and good fishing. Please call, I can not stand to hit my finger one more time, working as a carpenter, and if you do not use me fishing, I will be building something else, building a porch, swing, or add ons.... Oh got tires for my sons car yesterday also. (threw a fish picture in just to make your mouth water) JD

---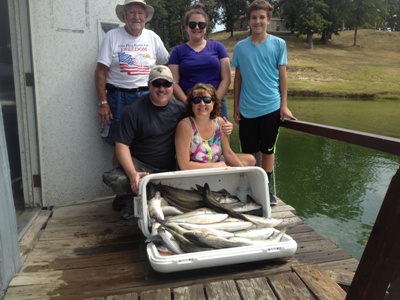 Visit Photos page to see the rest of the pictures
---
August 08, 2013...August is on us, and so is the HEAT. Thankfully I have been able to get on good, big fish, and get the limit before the scorching heat moves in. I am still fishing with live bait, and feel I am doing exceptionally much better than those using other methods. Do not get me wrong, I do not like to get up at 3 am but if that is what it takes to get bait, then I am right there. I have been fishing in, any where from 35 feet to 60 feet, of water, and it all depends on what I find on any given day. As far as getting fish, and staying on the water, the two do not coincide. When I get my limit, 10 fish per person, maybe catch and release a little, I go in, so if you do not want positive results, I am not your man. The fish now are running between 4 to 15 pounds, so as you see, getting a limit means releasing all those big fish, keeping box fish, those smaller than 20 inches, as now is a big fish season. Only two fish over 20 inches per customer. Yesterday, I release 6 fish over 12 pounds, taking me 4 hours to get a limit, after releasing so many big fish. Then I filet those fish, red meat out, clean and bag the fish, in my slip, where it is a nice place to sit and relax, around a table with a radio and fan on. Oh I do not get to sit, or get all the fan on me, but that is why, along with finding fish, I make the big bucks. Today I caught 20 fish, in one hour, two people. Well I am beginning to babble, so just look at the pictures and you decide. Is that nice big boat, safe. Is the guide, who has fished this lake for 20 years, my best selection. Now the good part, will this guide also keep me entertained to the point, where we become good to great friends. I think so. Call today, there is no better fishing around, and CrossCreek Guide Service is your best choice. "JD"
---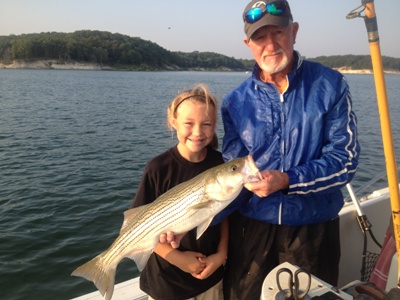 Visit Photos page to see the rest of the pictures
---
July 15, 2013...A month has flew by, and now to get to providing a fishing report for this time. I am still using live bait, which has been almost impossible at times. I have managed each trip, but not without having to go to my stowpen, back up storage, when it is needed. We are catching lots of fish, but with all the big fish being caught, it is almost impossible to get a limit, throwing back those big fish, over twenty inches as only two allowed per customer. The fish are between 40 and 65 feet, and I have had more luck drifting each trip. Not all trips are the same. Naturally some are better than others, and it mostly has to do with the barometric pressure and weather. Evening trip are now too hot, and I am not taking any, although we had a great rain shower today, and cooled things down in the low 80s. Water temperature was in the high 80s, so top water action right around the corner. My heydays are almost over, and I am open, both the last two weeks in July, any day. If that remains the case, this Saturday, will be heading to OKC with my church to help out with the tornado damage folks up there. Thanks to all the people who have booked me for a guided trip on Lake Texoma. I look forward to taking you fishing when ever the occasion arises. This next Tuesday, will be headed to the VA, for an appointment to see what we will need to do with my right shoulder rota tor-cuff tear. Although it has not stopped me from fishing, it does bother me, when I lift my arm over my head. Anyway a few photos of past trips, and good fishing. "JD"

---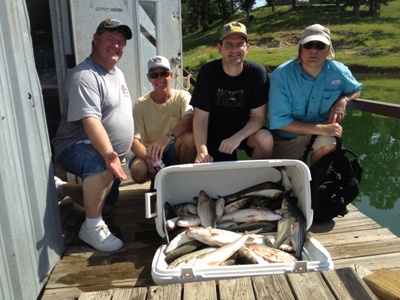 Visit Photos page to see the rest of the pictures
---
June 20, 2013...Each day is an adventure, during the best time of fishing, I have seen in some time,on lake texoma. I have been fishing two trips a day, the first which starts at 6:00am, and the evening which starts at 2:00 pm. Each are about the same, as far as catching fish, but the evening is a lot warmer, to begin. Fish are suspended in 70 foot waters, but there are also some nice fish in 30-40 foot water also. Considering the year, I have had only two rather poor days, catching 12 fish, and 8 fish, although those were very large, 7-8 pound range. I am still using live bait, getting it early mornings, but there has been some top water action on a couple days recently. You will have to expect catching fish fast, and going in after you get your limit, 10 fish per person, but it beats the alternative. Catch and Release injures too many fish, so I do not stay out, and C & R, for this reason. My day begins at 3am, getting bait, and I work hard to provide an excellent guide service, so if you want a guide who stays out in this heat and catch and release, I am not your man. I promise to catch you fish, show you a great time, filet and bag your fish, and hopefully have you leave with a feeling, this guy is my guide from now on! Truthfully this has been told to me several times recently. Right now I am booked solid, except for some evenings, until the middle of the first week in July. You have to schedule promptly in advance, and if you need lodging, you need to get it set asap. I have lots of drive ins from Dallas on my trips, and near by, but long distance trips you need to check with Little Mineral resort, Tanglewood Resort, Lighthouse Marina or Holiday on Texoma, all which have websites and you need to check out. My boat slip is at the foot of the hill, boathouse 14, Little Mineral Marina. I must apologize to recent customers as I had a smell in my slip, and after digging through some cast nets, laying on the dock, I found two water snakes had gotten in them, and could not get out, died, and I could not find the problem, but have now and everything smells lovely, like fish most times, as I filet right in my slip, as well as the usual on-the-water damp smell, but sorry I love it! Give me a call 903-786-3981, for the best fishing trip for stripers on Lake Texoma (Oh yes the four guys in the picture denoting their pointing fingers, they are mocking me, as with the loss of this finger, I can only give a high four and a half.) Good Fishing..."JD"

---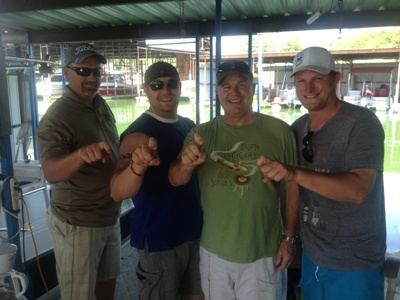 Visit Photos page to see the rest of the pictures
---
June 12, 2013...Well things have finally settled down some on Lake Texoma. That means the weather, as fishing is about as good as it can get. Anything better would be for a little top water action, or some slabbing, my favorite. Its my favorite as I dont have to get up at 3am to get live bait. We are still using live bait, and each trip has resulted in getting everyones limit, except me of course, as on the Texas side, we are not allowed legally to take our own limit. I am now catching fish in 90 feet of water, the cooler part of the water, and the actual size of the fish has been good size fish, 4-5 pounders, and not as many 8-10 pound fish. This will vary, as there is always a potential to catch that mountable fish, and the only reason it does not happen often, the smaller fish get to the dinner table a little faster. I have been working as fast as I can, taking fish off the line, and throwing fish into the cooler, catching 40 fish in a couple hours. Not my intention to get done so fast, but as I always tell my customers, if you do not want to catch fish steady, try coming in March, when it is cold and with high winds. I am booked almost every day now, guess the word is out, of my being a top class guide, not, its just the times. My customer base represents a lot of return (now friends) satisfied customers, and a lot of new ones, referred because of my dedication to my job. I want everyone to catch a lot of fish, good fish, and will work to I succeed each trip. Weekends are hectic, boats everywhere and I am not just talking about guide boats, speed boats, skiing, etc., and have something to do with how the fish bite, but usually we are all done before these people get out, except my evening trips. Morning trips start at 6am now, and evening trips at 2, both with same results, but the evenings a little hotter. Bring plenty of sun screen, a cooler with water and drinks, although I do not allow over size cooler, as they take up too much room. Anyway hope to hear from you for a guided fishing trip. "JD"
---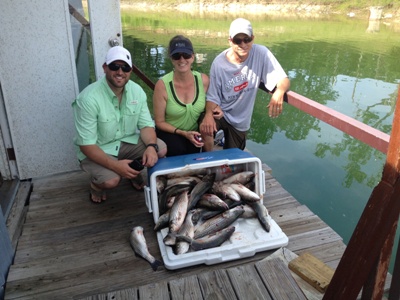 Visit Photos page to see the rest of the pictures
---
June 02, 2013...June has came in with a boom. I am still fishing with live bait, which is plentiful, as long as I get there around 2:30am, to throw a cast net for the shad. I am picking up my customers at 6am, and on my honey hole shortly thereafter, some 5 miles from where we departed. We are catching our limit of 10 fish per person, although fish are so big, looks like I might have to get a larger cooler, with all the 9 and 10 pound fish, we are bringing in each day. I have 18 trips scheduled over 14 days, so hope I get me rest, and not get grouchy, which I only do with my darling precious love, wife. I do morning trips at 6am and evening trips at 2pm, both with about the same results each time. I hope this keeps up, as all customers excited with what we are catching, as lots of other guides are putting people on small fish, getting done quick and going in. I post pictures of my fish, and each trip result, which I feel gives me more integrity than just getting out there to get back as fast as I can. Yesterday with two people we limited quickly, so did some catch and release for a while. That youngster did some powerful catching, and impressed some adults fishing close to us at the time. I instruct each customer on how we will be fishing, and their results take the credit. That is also a way to put the blame on others, but have'nt had to do that so far. Having done this guiding for 20 years, I am a testament, that ALL fishermen are great people. Anyway like to have your business, whether BIG trips, with multiple boats, or as few as two, I will work hard to make you trip memorial. I turned 71 years old, and feel God not only gives me strength to carry on, but plays a big part in my results. "JD"
---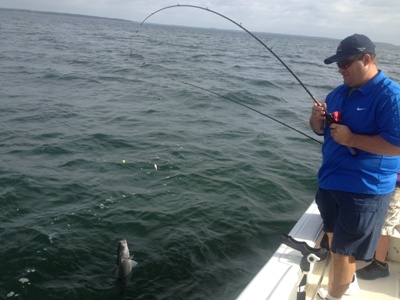 Visit Photos page to see the rest of the pictures
---
May 29, 2013...Fishing has been a blast, with each party getting a limit of fish, although catching more fish than box fish, so takes a little longer. We are still a little behind where we usually are at this time of year, in getting limits faster, but big fish makes people a whole lot happier, with the huge fight they are putting on, each trip. I still have a few dates in June, although fishing a lot of morning (6a) and evening trips (2p), so keep real busy. Using live bait still, with artificial still a month or month and a half away. Has been scattered clouds all this weekend, light winds, a really good time to plan a fishing trip on beautiful lake texoma. We are fishing in 65 feet of water, and a big fish sure can cause some havoc getting into other lines, while customer fights to keep it from running away. Grab your family, or some friends and head this way, and fish for those hard fighting, big stripers. JD
---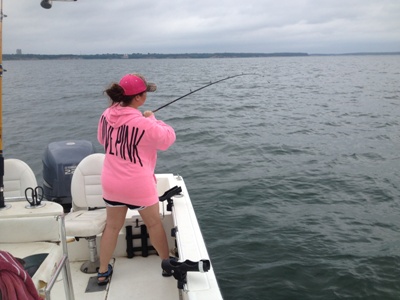 Visit Photos page to see the rest of the pictures
---
May 20, 2013...This past week has been busy for me, and each day a new adventure. Fish are everywhere, but you have to find the ones feeding. I am using live bait, the choice of stripers, and getting limits each day. I did struggle a little yesterday, May 18, with 25-30 mph winds. I got my customers good fish, topped off with some real big fish. Conditions other than the high winds, I usually always get good fish, and a limit for each customer,so figure that is my job, right. I have a nice boat, well maintained, safe for all ages, with the best equipment money can buy. I keep my boat in a slip, which is easy accessible, just step from the dock into the boat. I have a "T" top, which provides some shade on those hot days. My website www.striperfish makes it easy to view all facets of my business. I am a certified sixpack, boat captain, certified by the US Coast Guard. I also have a gift of gab, sometimes comical, keeping the atmosphere fun, instead of business like. I clean, remove red meat and bag your fish, all while you sit and relax in my boat slip. There is also other fish under my slip, catfish, brim, crappie, which you can fish for, while I clean fish. Think once you use my service, you will return time and time again. There is lodging available, of your choice, with moderate rates. I also furnish gift certificates upon request. I can handle large groups, and handicap customers. Anyway, good fishing "JD".
Tell us what you think!


---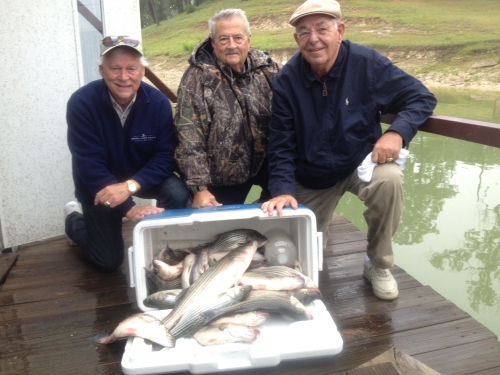 Visit Photos page to see the rest of the pictures
---
May 11 and 12, 2013...Two completely different days, with a double, morning and evening trip, 11th. Only thing I can say is they are the same, but I get more rest on a one trip day, Caught lots of big fish, but did not reach 40 fish limit. 12th, I say what is suppose to happen during May, with a limit of fish by 9:30a, with big fish at 10 lbs, with a 7 and 5, and all quality fish, They are still full of milk and eggs, I did try to make my wife realize, it was a good day fishing, but a bad day in that it was mothers day, and I missed church. The water temp was 62.5 and I caught all my fish near the Oklahoma side, with live bait. Bait is easy to get, if you can get up at 3 and throw a cast net, have a boat, count, and like lots of coffee. Otherwise, call me, I have a few days left the last two weeks of May, and June booking fast. I am pretty proud of myself as far as the fishing goes, with all the variables in the weather, I have provided fish, good size, and lots of fun for my customers. I am good, but my lord and savior deserves all the credit. Good Fishing......JD
---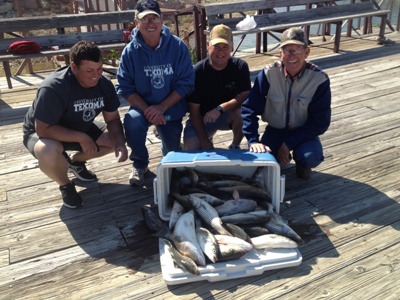 Visit Photos page to see the rest of the pictures
---
May 9, 2013...Since I have been guiding since 1994, I have never seen the type of weather we have been having on Lake Texoma. It makes a difference in fishing techniques, as well as the patterns of the stripers. Even though we are getting limits, it has been taking a full trip, almost 6 hours, to get a limit of quality stripers, or at least over 40 fish. One day is entirely different than the other, and there is no way that someone will end up in the same fishing hole, catching the type fish, they so desire. This is really beneficial to the one booking the trip as they get a full day, with a good variety of 18-19 inch fish, with an occasional 10-12 pound fish. This is the way it is at least with live bait, which is the method I use, as bait is the primary food (shad) for stripers. Those using artificial might get some bigger fish, but not the box of fish as comes with live bait. That's sort of the way, the cooler spring days have turned out, but the warmer it gets, the more likelihood of top water action. I love artificial fishing, I do not have to get up at 3am, and throw for bait. That is the biggest advantage between the two. My trips have all been good, with the occasional high winds days, which forces the rock and roll of the waters. Even then we have stuck it out and got our fish. 10 boat trip today, some did very good, and some struggled, but that's fishing. Usually this time of year it is a no brainer, either way you fish, but cold has changed that to a degree. As I always say, where ever you go, it does not get any better than this lake, under any conditions. It is a lake 88,000 acres, filled bank to bank with stripers. All we have to do is find which bank. Good Fishing "J.D.".
---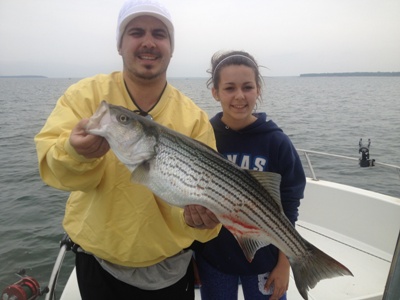 Visit Photos page to see the rest of the pictures
---
April 29, 2013…Boy, it sure seems I get behind with my website, when I get busy with guided trips, but both go together. I had a call while on the lake from a potential customer who was curious about my spring break comment on not re-fishing trips during this time, and if the fishing was still poor. It is not that the fishing has been poor, the weather/wind cause havoc during this period and I do not have control of it, to prevent bad days fishing, is the reason for that decision. You can bet on one thing as far as Lake Texoma, if you going to fish anywhere near this area, this lake is the best. A recent survey on the lake by Oklahoma and Texas has come up with the following:
Fishing Forecast: Anglers can expect excellent fishing in 2013. A great mode of box fish is present and is anchored by several year classes of mature fish. Recent winter fishing has been tremendous as these large fish have been eager to feed. Also, the shad population is in great shape and will be spawning in May.
I can attest to great fishing by almost all my trips in April, even though hampered by still cold weather and winds. The water temperature of the lake, surface, changes naturally in different areas, but hold average of around 61 degrees. The water is clean and nice even though a warning has been put out on the blue-green algae again, which was a joke the last time we went through with such warnings, and feel it is again. Our local authorities will handle this situation again, to avoid millions of lost dollars in lake revenue because of this warning. We will assure you we will take every means to protect you, whether it the water itself or boating/fishing. I will have to make a new requirement on my services, as recently I was of the opinion I would have 4 people on a booking and 2 showed up. I get up as early as 3am, to get live shad for the trips, and gather that bait on the basis of how many will be fishing that day. If I am not told beforehand, (to keep from throwing that heavy cast net for more bait at 3am) I will heretofore charge a surcharge. It is very important to me, to know exactly how much bait I will need, prior to the trip. Hope you understand. Fishing has been getting increasingly better each warm day we have, and will do so, the rest of the year. Most of my weekends are gone in May, except the 5th, 12th, 25th and 26th. Weekdays better, less traffic. You need a Lake Texoma fishing license, $12 almost anywhere, unless you are over 65. I have been doing this guiding on Texoma for 19 years, backed by having a nice big off shore boat, which is clean, and Coast Guard certified, required by guides on this lake. I love fishing children, and although they are charged full price, by taking a space and a limit of fish, I help build life time memories for years to come. Enjoy the latest pictures, and if I left anyone out, it's because I don't like you, not really, just kidding, missed it by mistake, As my navy days, anchor away boys (now girls too I guess) "JD".
---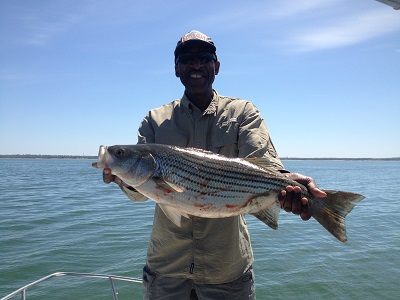 Visit Photos page to see the rest of the pictures
---
April 1, 2013...Glad to report I had a customer pull in 36 lb. striper this day, and he is having it mounted. APRIL FOOLS. Well glad March is over, as things have been getting better, especially the weather. I had decided with the striper taking their time biting, I would put out some jug lines. This is where I have jug lines out and we run them while heading out to fish for stripers, then back and forth until we have a good combination of both stripers and catfish. Catfish brought in today was 25 lbs., and it should be good like this until it gets real hot. Biggest stripers sorry to say was only 7 lbs., but they are all fat, and healthy. I had to reschedule three trips because of the stripers being out to lunch, or rather in a spawning. This will be over soon, as the water temperature is 55, edging upward, and by the time it reaches 60 degrees, it's time for stripers to be back and hungry. I have almost booked all my weekends, but one, in April, I have several days open during the week. It's time for light clothing and lots of sun tan oil. I am leaving from boat house 14 at Little Mineral Marina, 7:30 now, will fish for 6 hours or until we get a limit, (10 fish per person) I am somewhat less expensive than most guides, but a lot lot prettier. (just kidding) Any way it's time to get those kiddos up, and head the family down to the best fishing at the Striper Capital of the World. FISHING LAKE TEXOMA, sort of has a ring to it, don't it. Hope to hear from you soon, "JD"
---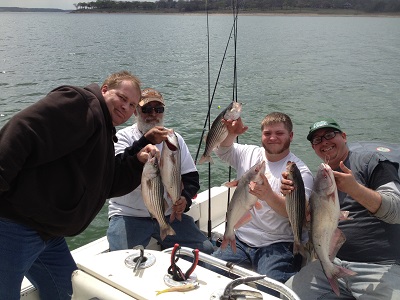 Visit Photos page to see the rest of the pictures
---
March 9, 2013...The fishing has been tough with the winds of March. It looks like I will have to change my policy regarding re fishing a trip, if it turns out to be a bad fishing day, January to April. The early part of the year, when it is still cold, the water temperatures are still in the 40's. It is a good time to catch big fish, but most my time has been looking for some places out of the winds. The gas prices on the lake are extremely high, and I am burning lots of fuel to get to where I need to be, just to be confronted with high winds, and a good place with fish. I have done this for 20 years, and March is the hardest time, with spring break, lots of people eager to fish, but confronted with too many obstacles, most of the time, to do any good. I will therefore limit April-December the time I will re fish the trips, if we do not get fish, as I work hard and run a long ways, just to be burdened with winds, etc., poor days fishing. March is also a month with lots of fog. I work hard to show you a great time, and catch fish, but March days, you never know when you can fish, or if you have a decent chance to get to where you need to be. So far two drift socks, has not slowed me enough to catch fish. If I am on the North end of the lake, I should have been on the West, where ever I can get, but if I could predict the weather, I would probably be a rare commodity, if I got it right. If you have time to re book, when the weather is better, it would be in your best interest to do so, rather than have a poor, cold windy day on a lake with 88,000 acres of water. This is the greatest lake to fish for stripers, but in all reality, some days the fish are just not going to bite. If they do not April-December, and I feel it was in some way my fault, I will re fish for you at a later time. I have a big investment in a nice big boat, with all the fishing equipment, but that does not guarantee catching fish on cold hard days. If you are a true fisherman, you will understand, as you probably witnessed it yourself. Do I sound, frustrated? I do get that way, when the weather interferes with my charters. Another complaint on Lake Texoma, is catching fish too fast! All I can say, is you should have come in March. Hope I have not scared you off, Good Fishing.....JD
---
February 22, 2013...I thought last year was so good, and kept me busy, but this years bookings are out of site. God is Good, all the time. I guess it has paid off, going the extra mile, insuring that my boat is always clean and all equipment is in good working condition, not to mention arranging the best possible lodging accommodations for my guest, even to the point of putting champagne in rooms for special occasions. I have a great knowledge of the lake, having done it for 20 years, and go to extremes to make sure everyone catches fish, each trip. This year looks to be extraordinary in that the fish are huge, and hungry. Its good to have complaints that we just catch too fast, but its the law here, 10 fish, per person, 2 over 20 inches, and that when we quit. We do catch and release only to the point of not hurting the fish, but plan on getting on the fish, lots of action, lots of fun, and back to clean fish and rest. We are catching fish now, although they are a little sluggish because it is cold, but they are biting, and are big. Now dont think it is easy. I start at 3am, getting live bait, ready for your arrival, and we depart at sunup. Fish have a mind of their own, so sometimes it is slow, and they might not bite, but I guarantee results, and will refish it, if I have too. I want you to have fun, and to come again and again. This does not happen a lot, but it does happen about once a year. Not bad for fishing over 200 trips a year. Week days are better as not as much traffic on the water, but I know everyone has weekends off mostly, so weekends book fast. Get a head start now, and call before that date you wanted is gone, as I also guarantee that this lake is the best place to catch stripers, the reason it is called "The Striper Capital of the World". I handle lots of Company trips, large groups, and use only competent guides to assist me, those that are like me, coast guard approved, and competent. I also created, "Operation Welcome Home", a free fishing trip each year for 80 injured and disabled soldiers, assisted by others guides, VFW, American Legion, Elks, with numerous sponsor donations, towards.... transportation, lodging, food, fishing, and fun. Call me for that next fishing trip, you wont be sorry....."JD"
---
February 09, 2013...The last of 2012 was difficult, in that fish were easy to find and bring in a limit, but I have a real problem with my right shoulder. I have apparently torn the rota-tor cuff, and in physical therapy, with surgery a possibility. I figure if I can handle the repair of my nets, and all the other things tied into guiding, I can overcome the shoulder issue. I have just returned from my winter vacation, and starting to book some fishing trips, with old and some new customers. If shoulder surgery is necessary I will have to wait a time to recover, or work one handed. I am still booking guide trips, and hoping for the best. Big fish are running now, on artificial, and will be, until around the middle or March. Then its back to casting for live bait, and so on. Give me a call, I have plenty of good days still open, and you can expect big fish to run year round, as fish are showing up everywhere, in big schools on the depth/fish finder. Anyway, hope to hear from you soon......"JD"
---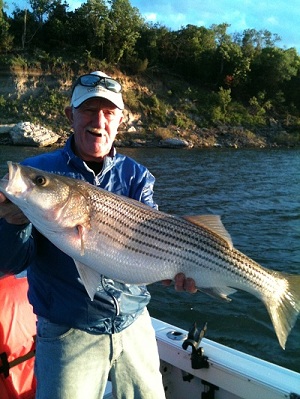 Visit Photos page to see the rest of the pictures
---